The first province-led rural sanitation sector conference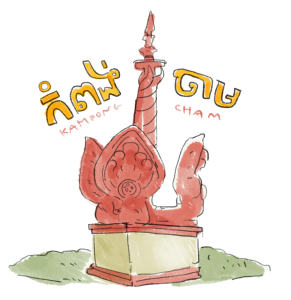 It seemed that the Sanitation Industry Conference in Kampong Cham province was off to a bumpy start. It was a hot morning (even for Cambodia), and temperatures were still rising. Early conference participants learned that there was only one classroom booked for the conference, and it would have to hold over one hundred people.
But it would take much more than a crowded room to deter participants. In the end, 185 local officials and private sector representatives not only attended, they stayed for the eight-hour day focused on how to address rural sanitation challenges. The Kampong Cham Deputy Provincial Governor attended every session. Flanked by televisions crews and cameras, the Provincial Governor gave the opening speech.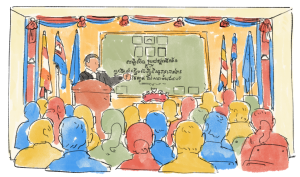 In addition to the strong show of support from top leadership, this conference was budgeted, co-funded, planned, and organized down to the invitation letters by provincial government officials. Kampong Cham's initiative is a first for the Cambodian government, and a point of pride expressed by many who came for the event.

At the invitation of the government organizing team, a director from a neighboring province gave a keynote speech, "when working in rural sanitation you need to make sure the leaders at the top participate and aren't passive." Throughout his speech, he emphasized that he chose to spend the first day of his retirement at this WASH sector conference to talk about the importance of leadership.
Nodding along to the speech were youth delegates from the Union of Youth Federations of Cambodia. One delegate reflected, "the national government has a perfect action plan. But when it comes to actual practice in the communities, the national government will need to support local authorities – and that's the challenge."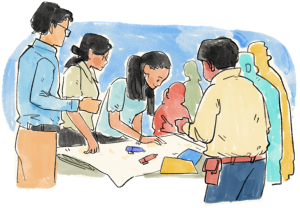 That the government funded and led the event in Kampong Cham is a good example of the shift in roles in the rural sanitation sector that WaterSHED has been working towards. In previous years, when WaterSHED directly facilitated the rural sanitation market, we organized provincial industry conferences for private and public actors working on rural sanitation to network and collaborate. In the 3 years since the first conference, we gradually reduced our involvement while encouraging government to view the events as opportunities to increase collaboration.

Kampong Cham has set the bar high for province-led sector leadership, and other provinces are taking notice.
WaterSHED has been implementing a progressive exit strategy, one that leaves behind sustainable service delivery, since the beginning of its work. 2020 marks the last year of this strategy where we will sunset the organization. Throughout the year, we will document the thinking behind – and the process of – exiting the Cambodian rural sanitation market here on the blog and in our newsletter.