Institutionalizing Novel Development Programs
How do promising development models or programs become mainstreamed by national governments? This is a critical question in regards to WaterSHED's exit strategy. Chea Sang, Government Partnerships Manager, reflects on the effort to embed our successful Civic Champions program within the Cambodian national government system.
A former peace-building & conflict resolution trainer on the border between Cambodia and Thailand, Sang never pictured herself working in water, sanitation and hygiene. She made the jump from peace-building to sanitation market building after learning about WaterSHED's unique approach to development. She sees WaterSHED's approach as novel in that,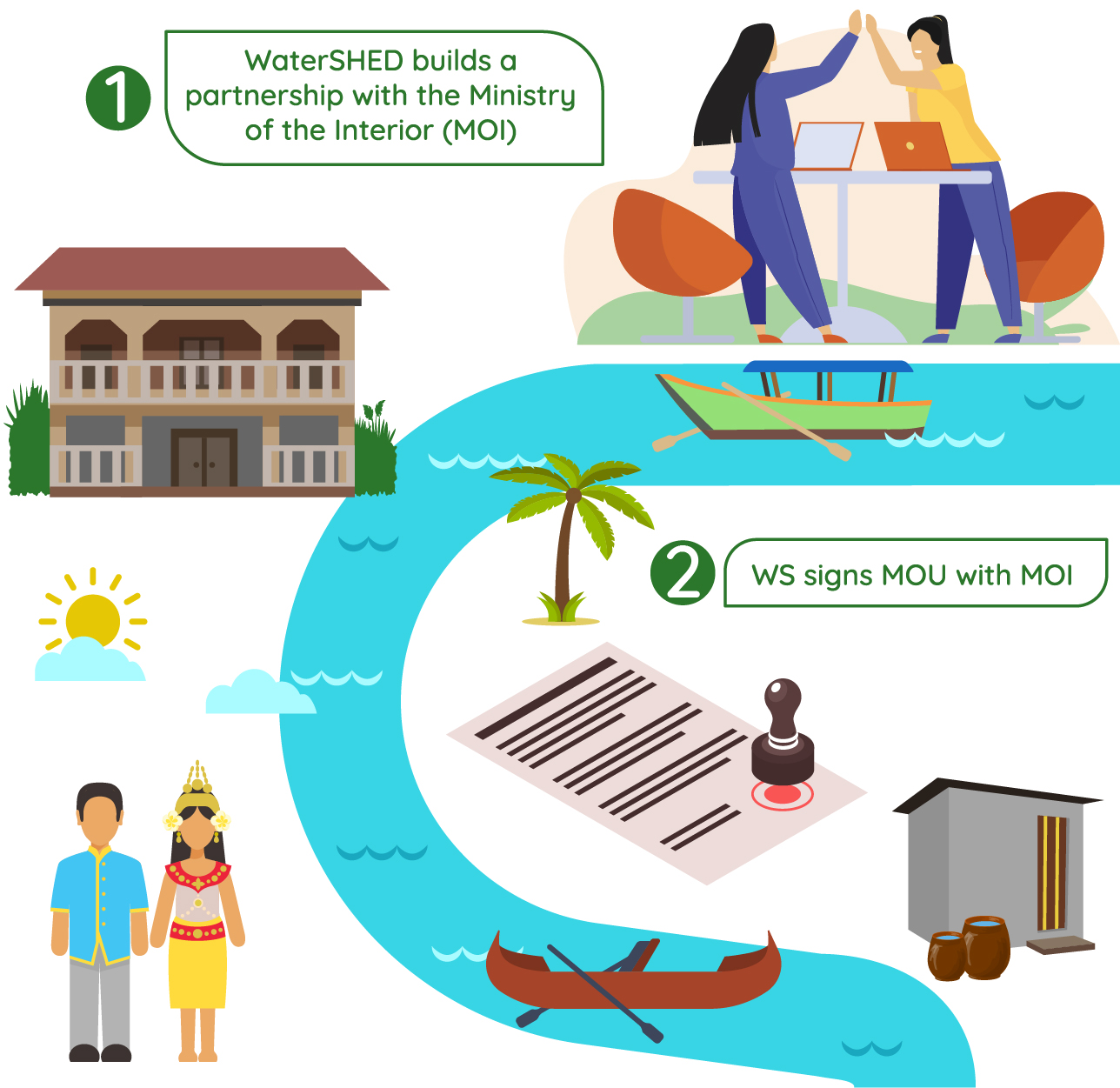 "WaterSHED provides leadership training instead of giving or selling toilets. Because, even when all households have latrines, there will still be sanitation related problems that need to be solved. By strengthening government capacity, our training isn't one solution, it's many."  
An NGO exiting sounds good, but Sang leads the challenging task of implementing on the ground. Specifically, Sang's team of two (including herself) is responsible for working with the relevant ministries in the government to integrate transformational leadership programming like Civic Champions into the standard training regime for administrators and government officials. 
The Civic Champions program has now trained over 1,000 commune councilors in public speaking, planning, strategic thinking and other leadership skills—resulting in thousands of toilets sold and installed without subsidies. However, who will train the remaining 10,000 councilors across Cambodia? And what about the new ones that come with turnover and growth?
While undeniably complicated, Sang sees the opportunity to align national and local actors in the system to take Civic Champions forward as a government program. She says, 
"Commitment might vary from province to province. By working strategically with the national government—who is invested in taking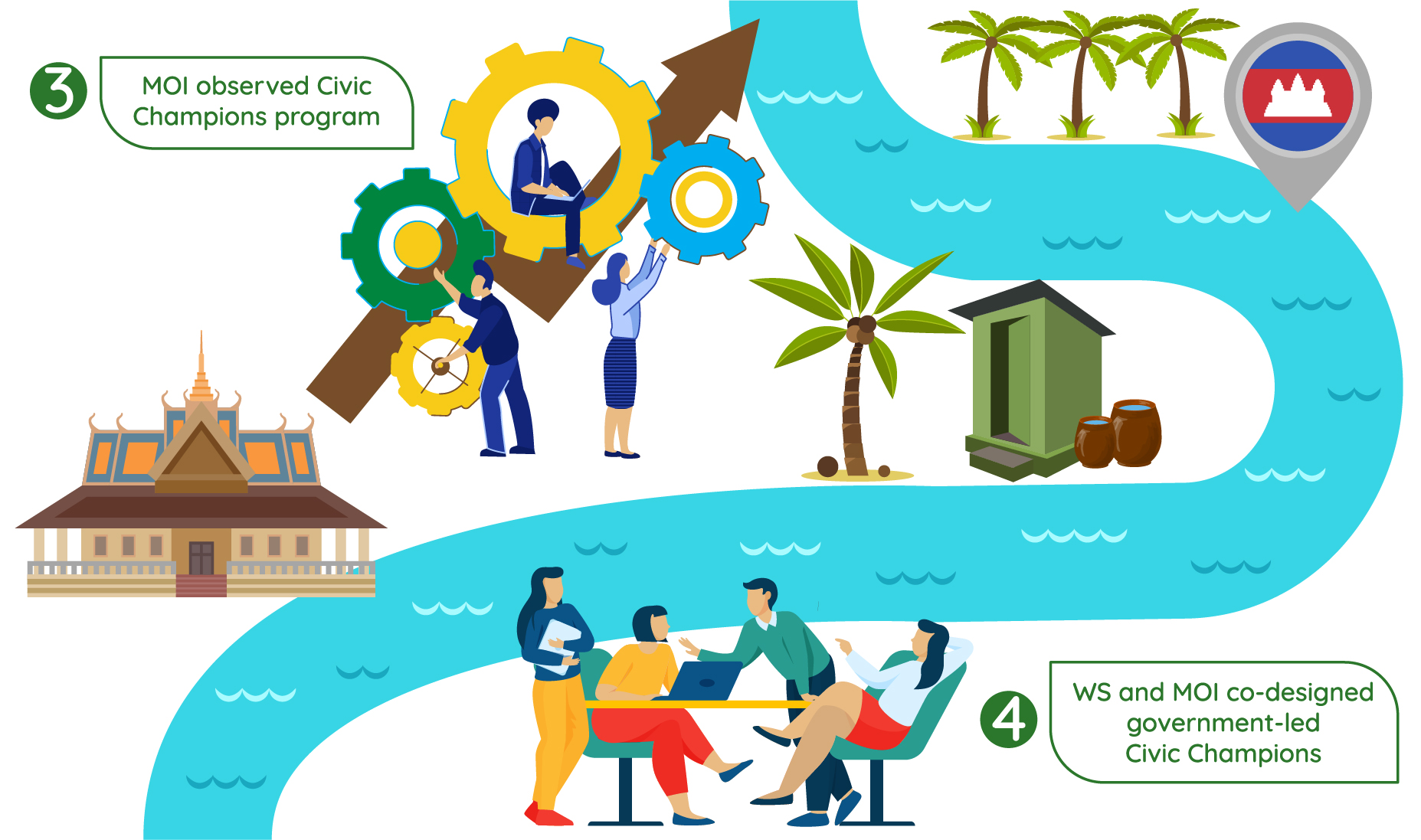 ownership and implementing Civic Champions—we are securing consistent accountability and oversight of programs."
Given Civic Champion's focus on foundational skills necessary for effective government leadership rather than on sector specific technical knowledge, Sang and the team identified early on that key departments within the Ministry of Interior (MOI) have both the mandate and the influence to scale a new leadership program nationwide.
WaterSHED has been working hard since 2018 to broker an agreement with the Ministry of Interior to work collaboratively on a government-led "pilot" of the Civic program (pilot in quotes because while the NGO has piloted, scaled, and implemented various hybrids of the program since 2013, this would be a trial for the government to lead the program themselves). With an MOU (Memorandum of Understanding) signed in 2018, MOI began observing and monitoring the Civic Champions 'hybrid' iteration (then the latest in a string of iterations since 2013). In 2019, WaterSHED, MOI, and the Ministry of Rural Development (MRD) got to work co-designing a 'government-led' iteration. MOI views this as a pilot program that could be implemented nationwide. Those 10,000 commune councilors should get ready for some trust falls (just kidding, they don't do trust falls). 
The government-led iteration was off to a strong start before COVID-19. After a few months pause, the teams resumed the trainings in July, and we wrote a bit about that here.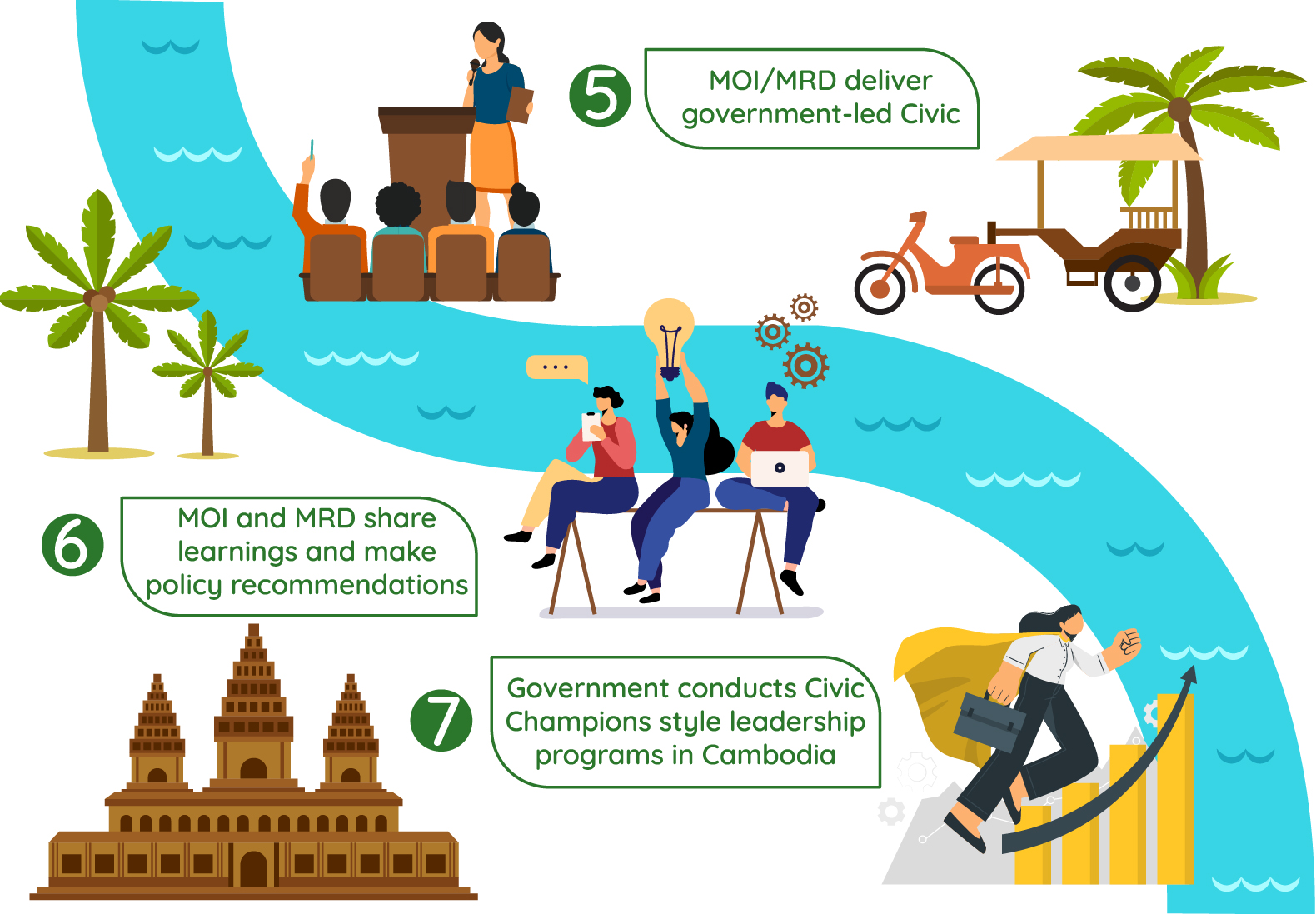 For Sang, government budgets are a key indicator of government commitment."This year, we are seeing several positive signs that government partners are invested long-term. All of the [subnational government] officers that joined the program have allocated the [training] in their budget, and WaterSHED does not even pay for national or provincial per diem, travel expenses, or accommodations anymore." 
When asked if she thought that WaterSHED's exit is unique, Sang expressed her opinion that an exit is not only a logical step for WaterSHED, but for all foreign-funded development organizations: 
"Everything will have their end and missions will be completed. To better serve communities and have a lasting effect, every foreign-funded NGO should think about their legacy. We Cambodians are moving forward, the country is moving forward. We will not stay an undeveloped country. Government and foreign NGOs need to think about a good strategy to build capacity now to prepare for the future that is coming."
Artwork by the talented To Binh Binh.