Business profile: Gov Seang Loy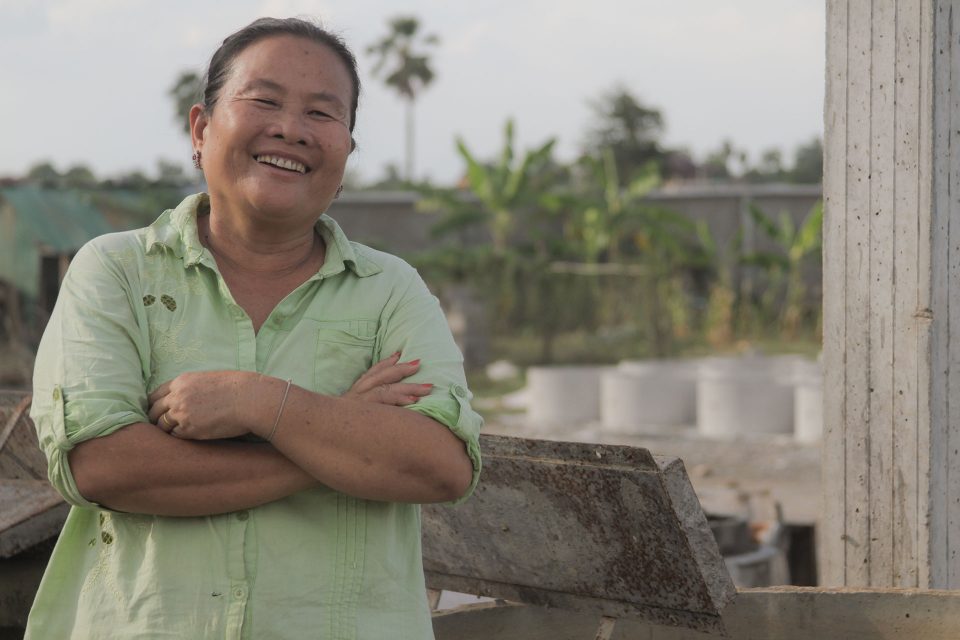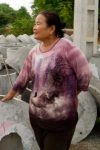 At over 50 years old and with 6 grown children, many Cambodian women Gov Seang Loy's age would be thinking about retirement. But Seang Loy has always had big plans. For 10 years, she saved money from a small fish-selling business in Kampong Speu's provincial capital, where average profits were 5 USD per day. A few years ago, using her house as collateral, she took a small loan from a microfinance institution to buy a plot of land in a good location on the national road outside the provincial town. She worked to paid off the loan and interest within 2 years. In June 2010, with her fish shop savings, some money she borrowed from her brother and some of her husband's salary, she moved onto her new land and began a small construction supply shop.
Starting a new business in a new area was difficult at first. She began by selling cement, sand, roofing material and concrete rings, which are used in Cambodia for water storage, wells and latrine pit linings. With 2 concrete ring molds, she estimates that she could sell about 6-9 concrete rings for toilets per month, and 1-2 ceramic toilet squatting pans, but she never sold them as a toilet 'set'.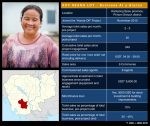 When the WASH-M project first began recruiting interested enterprises in the area, Gov Seang Loy didn't join. With only two ring molds at the time, she did not have the production capacity and she wasn't ready to invest in more ring molds and equipment to make a 'high risk' product she wasn't sure she could sell. When she saw that other enterprises in the area were struggling to keep up with the toilet demand, Gov Seang Loy went out to some nearby villages to see the situation for herself. When she saw the market potential, Seang Loy changed her mind and negotiated to buy more ring molds and several pre-cast 'chamber box' molds on credit. She also took another microfinance loan of USD 3000 for stock investments. By mid-November 2010, she was working with the WASH-M team, selling a USD 35 dollar home-delivered self-installable toilet set.
Toilet sales a booming business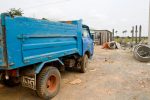 Since she began selling the new low-cost toilet products, Gov Seang Loy has averaged about 50 sales per month, although in the peak post-harvest season toilet sales exceed 100 sets per month. Her 8 commissioned sales agents cover 6 communes. She now has 4 full-time workers manufacturing and delivering her toilets. Although she started with one small truck for toilet deliveries, Gov Seang Loy quickly realized that to ensure on-time delivery of her toilet products, she would need a bigger truck. Borrowing about 5000 USD from her cousin, Gov Seang Loy invested in a bigger truck, which can fit 4 full toilet sets per shipment. Seang Loy estimates that she can now deliver up to 32 toilet sets per day. Her core business remains cement, sand, brick and other construction materials. However, in terms of overall profit, toilet sales have increased from just 10% to 30-40% of her overall business.
A 'hands-on' approach to sales and marketing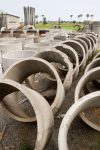 Gov Seang Loy attributes her toilet sales success to her unique and 'hands on' role in toilet sales and promotions. Although she does rely on her sales agents for village and door-to-door promotions, Gov Seang Loy estimates that she herself joins more than half of all village-level sales events. She negotiates installment payment terms for those who do not have enough money and tries to encourage investment by comparing toilets to other less useful ways of spending money. She tells people, 'Instead of spending money on gambling, you can save money for a latrine….You can reduce the payment for mobile phone card [pre-paid credit] by 5000 riel [USD 1.25] a day to save for a latrine.' She or one of her staff goes to the sales events with a truck full of toilet sets to demonstrate the product. They are often able to sell all the toilets at the event, but if not, they take those that weren't bought to the village chief's house, where they can remain on display and ready for purchase.
One of Seang Loy's most successful strategies is to provide a 'promotional' toilet on credit to every village chief who does not already have one. Village chiefs can pay her back when they have the money. She believes that by getting influential people to use her product, she can build up product awareness and get more people to invest.
When she has the time, Gov Seang Loy also tries to do some cross-promotion. She goes out with her laborers when they are delivering other housing construction materials, bringing along her toilet brochures and talking to her existing customers and their neighbors. She asks, 'Do you have a latrine or not? If you want one, call me.'
When asked what she has learned from her involvement with the WASH-M team so far, Gov Seang Loy notes that she knows a lot more about how to talk to people and persuade them to buy a toilet. And she believes her 'hands on' style and the time she has invested in learning sales techniques is her 'competitive advantage' over other businesses selling toilets and construction materials in the area. As a new business, Gov Seang Loy is not just competing on price, but using creative marketing to build her 'brand.'
New products and new places
Gov Seang Loy has discovered an unintended consequence of her new toilet business line: she estimates that up to 50% of customers purchasing a low-cost toilet will also buy materials for their toilet shelter from her. Seeing the market potential for shelter sales and upgrades, Seang Loy plans to expand her product offering to include a low-cost zinc toilet shelter and a pre-fabricated door and frame.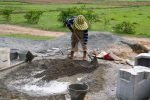 Seang Loy also has some plans to expand her reach. Since joining the WASH-M project, she has already begun selling in neighboring Tpong district. Although she is very keen to expand further, Seang Loy acknowledges that reaching far away communes may be too costly in terms of transport time and fuel costs. She is also quick to point out the importance of having the WASH-M team to legitimize her sales activities in new areas and help build trust and relationships with local authorities.
Seang Loy has made substantial investments to rapidly grow her business in a very short time. So far, she has been able to arrange trade credit with her raw material suppliers, and has not had trouble with cash flow or making payment on her outstanding loans. In Seang Loy's estimation, taking the initial business risk and getting involved with the WASH-M project are already paying off in terms of getting her name and reputation out into communities. The potential for increasing toilet sales and sale of her other products is high. Watch this space to see how this savvy entrepreneur manages the next stage of her toilet business journey…