Public-Private Partnership Provides Clean Water Systems in Vietnam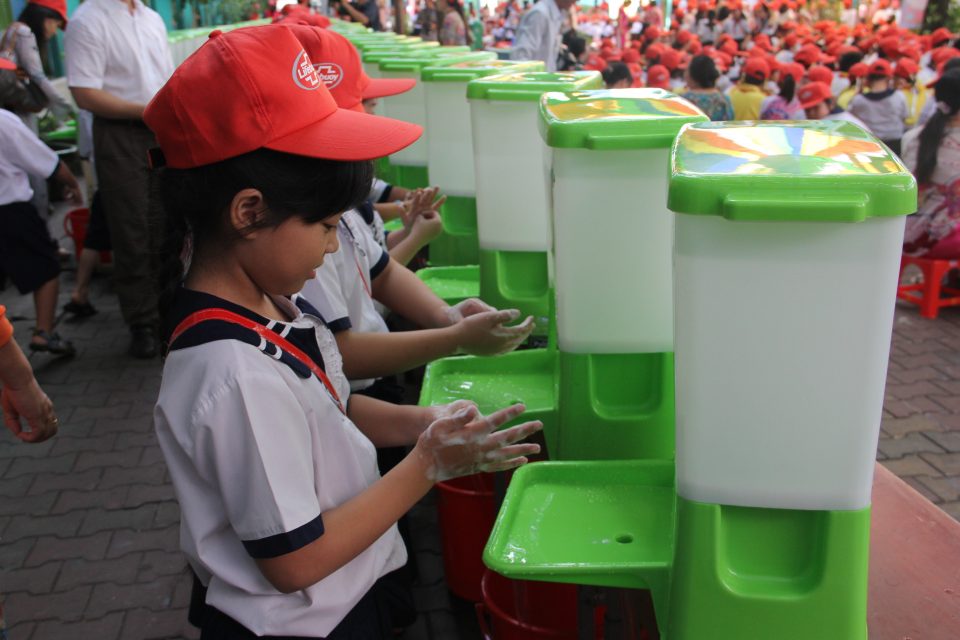 On March 10th 2011, WaterSHED joined partner the East Meets West Foundation, corporate partner Diageo plc, and hundreds of villagers, school children, and local authorities to launch the Xom Bang clean water system in Ninh Thuan Province, Vietnam.
Implemented by WaterSHED's local partner, the East Meets West Foundation, the community water system project started in June 2010, with funding from Diageo's Water of Life program. "Diageo Vietnam has a strong relationship with the people of Ninh Thuan and this innovative project reinforces our commitment to the community and reflects our growing interest in sustainable development solutions" said David Moore, Managing Director of Diageo Vietnam.
The water system directly benefits more than 1,100 villagers and increases the number of households with access to clean water from 20% to 75%. As a result, local villagers no longer have to fetch water from public wells or dig small holes next to the nearby stream, 1km away, to collect water for daily usage. The system will also improve overall community and family health.
The Xom Bang clean water system is based on an enterprise model of financial and community sustainability. While villagers pay for water access, the fees cover the costs associated with managing and maintaining the system, and it is the community which owns and manages the system, with local water managers hired and trained by EMW.
Attending the ceremony, Thung Sa Pa, Vice Chairman of Bac Son Commune People's Committee shared: "sponsorship for Xom Bang clean water project is a very significant contribution to the disadvantaged ethnic minorities in our community. The new system will help resolve recent water and sanitation issues and therefore improve our health and boost local socio-economic development."
Expanding on the public-private collaboration with USAID's matching funds of $78,000, WaterSHED, Diageo-Vietnam, and East Meets West are supporting construction of 6 latrines at 6 schools and providing 38 UV water treatment systems for 38 schools in Ninh Thuan Province – a partnership that directly benefits an additional 20,000 school children.
"Public-private partnerships leverage the technical and financial resources of the private sector. USAID's partnership with Diageo and East Meets West shows how governments, NGOs, and corporations can work together on critical health issues such as water, sanitation and hygiene. WaterSHED applauds Diageo's commitment to corporate social responsibility here in Ninh Thuan and around the world." said Tom Outlaw, WaterSHED's co-founder.
"We are proud to partner with Diageo-Vietnam and WaterSHED-Asia in this important project, which can improve the quality of life and health for thousands of people, especially the children through access to clean water," said EMW Country Director, Minh Chau Nguyen. "Lack of access to safe water and proper sanitation and hygiene is an on-going global health and development crisis resulting in millions of deaths and massive infectious disease morbidity burdens."