Supplier workshop: Strategic planning to increase latrines sales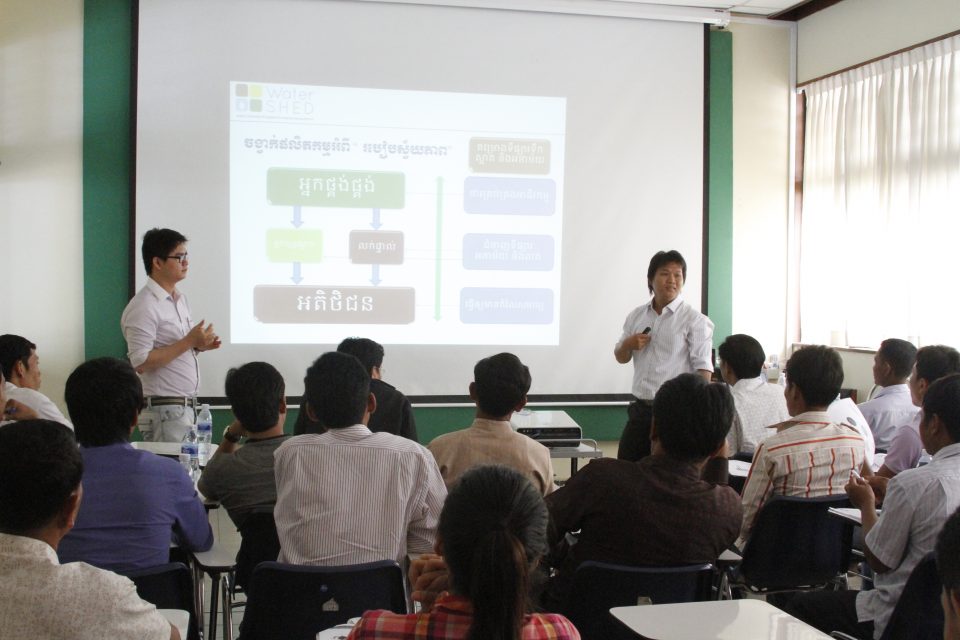 WaterSHED organized a Supplier Workshop on May 7, 2013, which aimed to bring together WaterSHED staff and high-performing suppliers to share experiences and improve their business skills through various presentations and discussion activities.
Thirty people, including WaterSHED staff and active suppliers from all six targeted provinces of the Hands-Off Sanitation Marketing project participated in the one-day workshop at the Cambodia-Japan Cooperation Center (CJCC) in Phnom Penh.
Mr. Sao Sopha, the WASH Marketing Manager and the organizer of the workshop, said that this event helped the suppliers develop deeper relationships with the team and understand more about the overall project and sales strategies. He observed that during the group discussion, everyone was able to share their success stories, as well as concerns, and together they were able to generate possible solutions to help one another develop more fully successful businesses.
The objectives of the workshop were:
To deepen the understanding on the process of building equipment for toilet construction
To share effective ways to cooperate with the sales agents to increase their sales
To share the experiences and skills for running a latrine business
To encourage the active suppliers to join regular formal/informal meetings with the WaterSHED staff
To plan and commit together to produce and sell according to the targeted volume of latrine sales