Civic Champions profile – Long Bunheang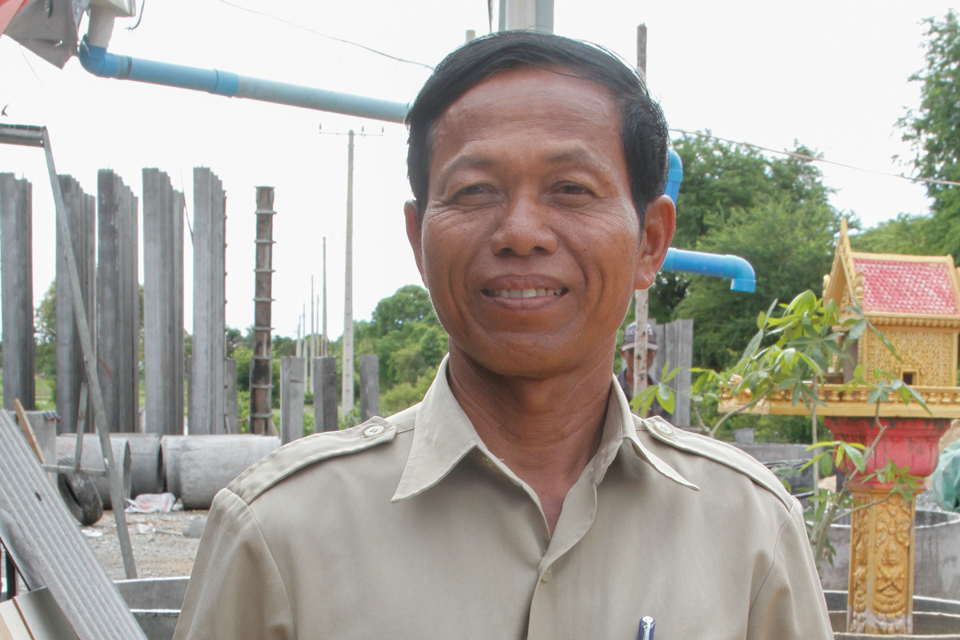 With great power, comes great responsibility. This concept holds true for Long Bunheang.
At the age of 55, Bunheang has been a civic leader for more than 20 years. He began as a village chief in 1993 in Kraing Tnol village, Moha Sang Commune. Later in 2002, he was elected for his first of now three consecutive terms as a member to the Commune Council. He continues to serve the office in Moha Sang Commune, Phnom Srouch District, Kampong Speu Province.
Bunheang has dedicated half of his life to sanitation improvement in his community both professionally and personally. In 2009, he teamed up with Gov Seang Loy, a WaterSHED-supported supplier of low cost latrines, serving as a commissioned sales agent.
"I have always been interested in the sanitation field since I was working in the PDRD [Provincial Department of Rural Development]. In my village before, the sanitation situation was really poor as only about 10% of people had toilets — that's why I wanted to be the sales agent working for my commune," he said.
Being a father, husband, sales agent, farmer and member of the commune council at the same time is not easy for Bunheang. The hardest part was when he changed his position from the village chief, having only around 100 families under his authority, to a member of the commune council with more than 2,000 families. But this provides him the opportunity to help more people in his area.
A Civic Leader and a Sale Agent—One Stone Two Birds
Bunheang acknowledges that his job as the sale agent has complemented his civic duty and vice versa. Working in the Commune Council, Bunheang is responsible for development projects in his commune, in which building infrastructure and improving sanitation are included. Every month at the commune council meeting, he never fails to put sanitation on the agenda.
"Working as the sales agent has improved my quality of work tremendously. I was able to interact with the villagers under my authority and get to know them and all their concerns not limited to just sanitation. People trust me and my working style; I have been elected for three terms now," he added.
When asked about his strongest motivation to work as a sales agent, Bunheang indicated his passion for sanitation is his priority. He envisions that all people in the commune will forgo the practice of open defecation and purchase a toilet leading to better hygiene.
Secret behind the sales success
Around 2,000 families are residing in Moha Sang Commune, and approximately 1,100 toilets have already been built. Of all these toilets, at least 35% are the result of Bunheang's effort. From each sale, he earns $1.25 sales commission fee from the supplier Seang Loy. According to Bunheang, about 70% of the families have access to improved sanitation as toilets are often shared among relatives.
Being a sales agent is easier for Bunheang partly thanks to his current role. However, he revealed his secret behind this success: "to urge people to build toilets, we need to work closely with the authority at the village level—the village chief." Every month, Bunheang visits village chiefs and discusses their development plans. He always encourages the village chiefs to include sanitation as a priority and continues talking with the people who have not built their latrine yet. Moreover, Bunheang often makes a regular trip to join all meetings of all the 26 villages in Moha Sang Commune and visits door-to-door to raise people's awareness of using toilets.
On Bunheang's wish list is to receive training on effective advocacy as he strives for more successful strategies to get people in his commune to understand and value sanitation more. He hopes that by 2015, everyone in his commune has access to a latrine.
The Civic Champion is supported by Grand Challenges Canada.