Ashoka Changemakers Competition – WaterSHED's Toilet Revolootion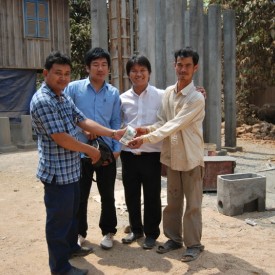 WaterSHED-Cambodia has entered the Ashoka Changemakers competition: Making More Health: Achieving Individual, Family and Community Well-Being.
Our team works to stimulate the local private sector in Cambodia so that it can respond to the sanitation needs of Base of the Pyramid (BOP) consumers and so that Cambodia can reduce its donor dependency. We also work to encourage demand among low-income populations for sanitation products and services that improve public health and hygiene.

The team wants to change the world so that BOP consumers can sustainably access improved sanitation facilities in line with their desire for dignity, safety, status, and well-being for their families. We want to change the norms of behavior in rural SE Asia so that open defecation is no longer acceptable and so that women don't have to feel shame when they can't use a toilet. And ultimately we want to eliminate child death due to diarrheal disease.