AsiaLIFE: Toilets of Cambodia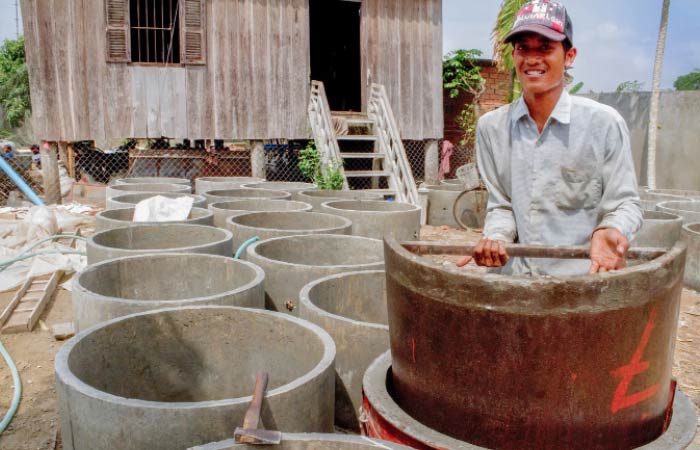 Read the article in AsiaLIFE magazine.
Cambodia has the region's worst indicators on toilet use, but this is changing thanks to local approaches aiming to flush out the problem. writer Joanna Mayhew. Photography WATERSHED
Flushing toilets are a luxury often taken for granted in the West. Many expats arriving in the Kingdom are unpleasantly surprised by the available facilities. On provincial highways, tucked behind restaurants serving up plates of bei chah, foreigners normally discover dingy, dark squatty potties, with buckets of water replacing plumbing and toilet paper.
But while visitors may see squatting as a step down, these facilities represent a massive step up – and a literal lifesaver – for families across the country.
On Nov. 19, World Toilet Day aims to make public this most private of issues. "It's important to raise awareness that this is really a problem," says Michel Dauguet, WASH program director at non-profit organisation iDE Cambodia. "Taking a dump with dignity is a human right."
Dump Data
Worldwide, 2.5 billion people lack access to proper sanitation, says the UN. In Southeast Asia, Cambodia lags behind its neighbours, with 69 percent of the rural population practicing open defecation – or relieving themselves outside – as of 2011, according to WHO and UNICEF.
When WaterSHED's Regional Program Manager Geoff Revell first visited a rural Cambodian village in 2005, nobody had a toilet. "Everyone defecated in the open, and so did I on that trip," he says with a laugh, adding he felt like a novice. "I was being potty trained by the locals – [it was] de-potty training." Revell also recalls his team surveying another village, where one woman responded in a questionnaire that she had a toilet. Curious, Revell asked if he could see it. The woman proudly spread her arm out, indicating the wide outdoors, and said, "This is my toilet."
While some enjoy this freedom, the lack of toilets costs the country severely. The World Bank found the average rural family loses almost $70 per year due to illnesses caused by poor sanitation and hygiene, and one fifth of the deaths of children aged five and under are a result of diarrhoea, says UNICEF.
The practice can also be perilous: villagers fear being attacked by snakes, women are vulnerable to violence, and the elderly are at risk of falling while trekking out at night. And many more intangible costs exist, such as the shame of being seen, or of not being able to offer guests a toilet.
Pitching Change
Though the Kingdom has been known for its poor sanitation, it is gradually becoming known for its progress. While toilet coverage was only 30 percent in 2011, iDE estimates this has risen to 47 percent in just four years. "The pace of change is phenomenal," says Dauguet. "Cambodia is seen as a stellar example of sanitation starting at a very low point and growing very fast."
Launched in Cambodia, 'sanitation marketing' has played a big part in this progress. This approach, used by both iDE and WaterSHED, goes beyond education to focus on the perks of toilet ownership.
Traditionally, programs used fear, warning people about germs and disease. While it worked, and awareness is now high, this is not enough unless habits change. Revell draws the comparison to the West, where people know they should exercise and eat healthier, but this doesn't necessarily translate into action.
As such, new programs use marketing to appeal to motivators such as pride. Rather than just toilets, families aspire to bathrooms, where they can shower, wash clothes and preen for weddings and ceremonies, and the programs play on this. Dauguet compares it to any other product being marketed for health reasons, such as toothpaste. "It's not just about avoiding cavities, it's about having a nice smile and seducing," he says. "This is where we miss the plot."
Khmer Challenge
But this very aspiration means families may delay buying a toilet, despite its now-low cost ($55), to hold out for a pristine brick shelter, costing up to $500. While coverage is low, expectation of what a toilet should be is high, says Dauguet. In response, WaterSHED is now designing a lower-cost bathroom.
Other continued challenges are to further develop the supply chain, deal with programs that take contradictory approaches – such as providing free toilets – and improve sanitation for young children, who often miss out in toilet innovations. 
Still, the impact is clear, with a functioning market in place through organisations' support of micro-entrepreneurs. In recent years, WaterSHED has enabled the sale of 125,000 toilets, and iDE has delivered 140,000 toilets. Social norms are also changing, particularly in cities. "People can adapt, which is [why] you would now frown on someone defecating on Monivong Boulevard," says Revell. "That's the holy grail, that people's interactions become reinforcing against open defecation."
As for the government, it has set a target of Cambodia being open defecation-free by 2025. While this may sound ambitious, if the last few years are any indication, it may not be so far fetched. Says Dauguet, "We have a shot at it."