Guidance on market-based sanitation (UNICEF, 2020)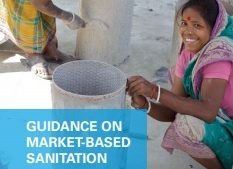 UNICEF draws on the global evidence base and experience of programs, such as WaterSHED's Hands-Off MBS, to provide practitioners with resources to plan, design, implement and evaluate interventions.
While the MBS process is based around the concepts and stages of the programme cycle, its ultimate goal is much broader and longer-term; to
create and sustain robust sanitation markets that will continue to serve communities. It is essential to build in an 'exit' strategy for UNICEF's hands-on involvement in the market, transitioning from intensive market development to a more robust and sustainable sanitation market.

MBS works best when it is planned from the start to work at scale and to collaborate on market research and strategic design activities. MBS is
about catalysing and facilitating the growth of sanitation markets – that is, helping the private and public sectors to work together to deliver services to households on their own, to accelerate basic sanitation gains. From the start and throughout the process you should consider whether your new market facilitation strategies and activities pass 'sustainability' and 'scalability' criteria.