Household handwashing in Southeast Asia: LaBobo Usage Study 2019
Read the full report here: LaBobo Usage Study: Assessment of handwashing practices and user satisfaction among consumer households in Ho Chi Minh City, Vietnam
Handwashing with soap is a critical first step to preventing infection and disease. However, according to the World Health Organization, in 2012 only 13% of the population in Vietnam practiced handwashing after potential contact with excreta, contributing to 2,031 diarrhea-related deaths from inadequate hand hygiene in the country that year. (WHO, 2012).
In response, HappyTap Co. designed the world's first portable sink aimed at building healthy handwashing habits, while growing the market for hygiene products in Southeast Asia. The HappyTap Co. team designed the LaBobo in the Lower Mekong Delta region to make handwashing more convenient, accessible, and fun.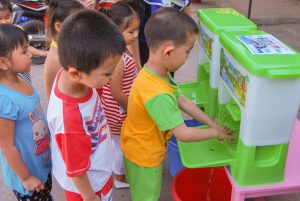 The purpose of this study was to characterize the use of LaBobo and the handwashing practices of respondents who had already purchased the device for their household. A team of local, Vietnamese-speaking enumerators conducted direct observation of handwashing techniques and LaBobo units in 107 homes, while also conducting surveys to capture handwashing practice at critical times.
The study found that adults and children who used the LaBobo to demonstrate their usual handwashing technique were more likely to practice safe handwashing than those who used other handwashing devices. Additionally, both adults and children washed their hands at critical times more frequently when using the LaBobo than when using other handwashing devices. Among LaBobo consumer households in Ho Chi Minh City, use of the LaBobo for handwashing was associated with safer handwashing practices both in terms of handwashing technique and handwashing at critical times.
Overall satisfaction with the LaBobo was quite high, with 95% of customers that responded to the satisfaction questions being satisfied or very satisfied with the LaBobo. Things customers liked about the LaBobo included its convenience, durability, ease of purchase, price, and aesthetic. Ninety percent said they would recommend the LaBobo to friends and relatives.