Field visit to promote media coverage on rural sanitation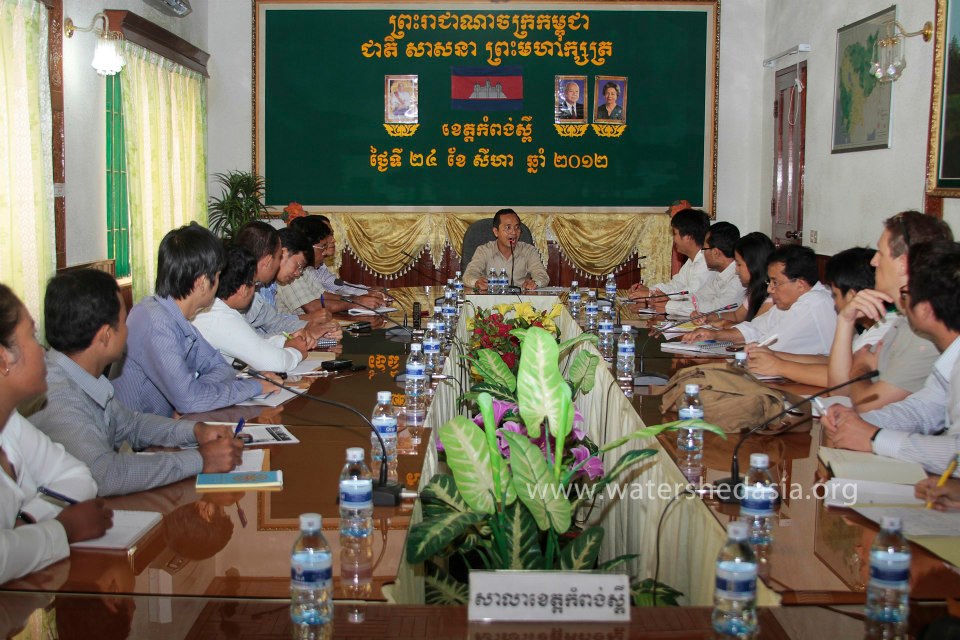 On 12th September 2012, WaterSHED hosted a field visit to one of its targeted villages in Kampong Speu province to promote media coverage on rural sanitation.
Partner organizations and other ten local media organizations ranging from newspaper, to web magazine, radio and television from Phnom Penh participated in this event. The deputy governor of Kampong Speu province welcomed the team at his office and provided a brief presentation on the province's sanitation situation.
The team left the deputy governor's office after his one-hour-and-half briefing, which was followed by some questions and answers from the media, and then together shared a bus ride to visit Skuh commune where 100% of access to toilet has been achieved through the implementation of WASH market-based approach, project of WaterSHED.
The media had a chance to converse with the village chief of Prey Rongeang village of Skuh commune, Sok Chhoeurn; a man who committed to change the face of sanitation issue in his village in the last three years. Sok Chheourn has been the driving force of his village's nearly 100% sanitation coverage. He shared his experiences and lessons learned trying to convince his villagers to buy latrine.
In the afternoon, the team went to visit a sales event, which was organized at Kraing Pror Srok village, Kiri Voarn commune. Sanitation sales events are the key that makes the process so easy. Village leaders, in collaboration with program-supported sales agents and suppliers, convene community sales events where villagers have the opportunity to see and purchase latrine kits directly from the suppliers. The kits can be purchased for about 45 U.S. Dollars, a fraction of the cost of previous pour-flush latrines, and they are delivered the same day, usually within hours.
At the end, our delegation visited two sanitation suppliers along national road number 4. Sanitation suppliers shared their perspectives on market-based approach that has reshaped their business behavior.
Rural Sanitation or more specifically the access to toilets is one development issue that is a challenge to be addressed in Cambodia especially in the rural areas. This visit took Journalists on a journey to see the sanitation issues facing the community, to have the opportunity to hear about what communities are doing about sanitation and the how government leadership at all level is supporting and motivating people to take action.
Click here to view more images from the trip.
Check the below video about the report on the media trip on HANG MEAS HDTV.