WaterSHED Forum, "Make the Impossible Possible"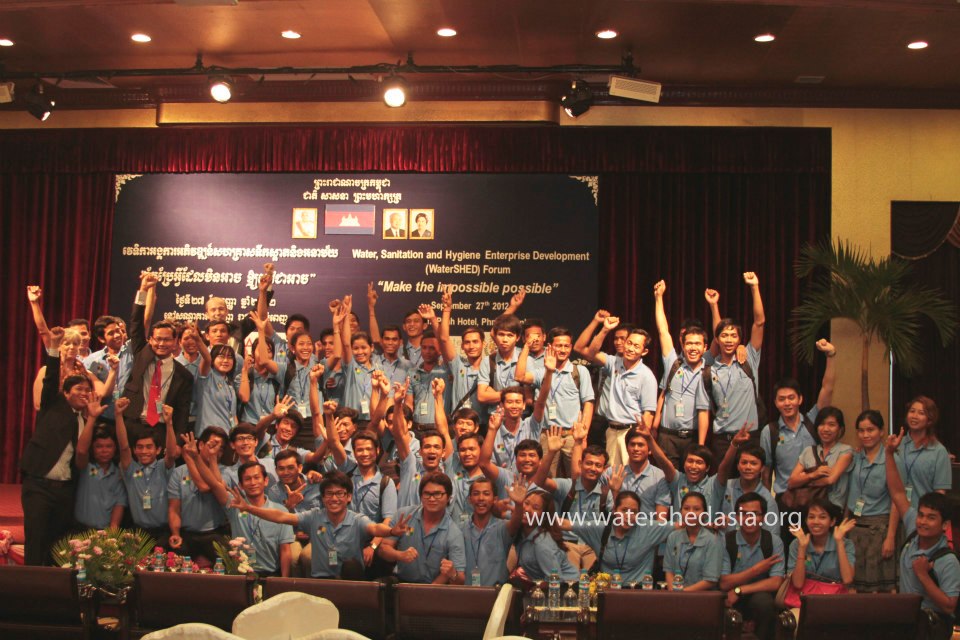 On 27 September 2012, WaterSHED hosted a forum entitled, "Make the Impossible Possible" which attracted nearly 200 participants from across Cambodia from government institutions, local authorities, NGOs, donor institutions, and from the private sector. Several international guests also joined from neighbouring countries, and the event was reported by local media.
Presided over by H.E. Sao Chivoan, Secretary of State of the Ministry of Rural Development, the one-day forum served to:
Recognize the achievements by stakeholders, including the government and private sector, in developing a market-based approach to delivering WASH products and services.
Present lessons learned to increase rural access to WASH products and services.
Review specific findings about rural WASH consumers and key issues for moving forward.
Provide an opportunity for sub-national government and the private sector to share their perspectives on market-based approaches to WASH and development.
Identify opportunities to cooperate in promoting National Sanitation Day.
The active leadership by national officials reflected the support of the Ministry of Rural Development for the Hands-Off sanitation marketing program implemented by WaterSHED to help Cambodia reach its Millennium Development Goals in WASH.
In his speech, H.E Sao Chivoan highlighted a few key achievements made by the Ministry in its rural development works including the creation of national strategies, work plans; the betterment of rural water supply and sanitation coverage, improvement of rural infrastructure, community development, human resource development and job creation. The Ministry of Rural Development is determined to achieve 50% access to safe drinking water and 30% access to sanitation by 2015, and 100% access to both by 2025.
Access to clean water and sanitation is still one of the main challenges hindering the economic development efforts of the government and the development of individual communities.
Brad Arsenault from the Office of Food Security and Environment at the US Agency for International Development (USAID) recognized the dedication of sanitation entrepreneurs who are supported under the WaterSHED program.
"… the nearly 200 water, sanitation and hygiene enterprises working across these provinces, from Battambang to Takeo, really show us how to make the 'impossible possible' through their resourcefulness, their hard work, and their willingness to take risks." said Brad Arsenault.  He also observed that, "… in areas where there is strong leadership in sanitation from village and commune chiefs, many communities are reaching the goal of 100% access to toilets."
Various approaches have been employed to tackle the problems of access to clean water and sanitation in rural areas of Cambodia during the last decades. The WaterSHED forum brought together several key actors striving to advance access to sanitation, including those involved in the market-based approach. Sanitation Marketing is an innovative model that bridges the gap between WASH suppliers and consumers, and encourages community members to buy affordable latrine instead of waiting for NGOs to donate them.
To date, nearly 40,000 latrines have been sold to consumers across six targeted provinces in Cambodia and facilitated by WaterSHED's market-based approach. WaterSHED and its partners in government aim to enable suppliers to provide low-cost, unsubsidized latrines to more than 500,000 consumers by 2014.
Click here to view images from the Forum.
Click here to view a video news report on the Forum by Hang Meas HDTV.