The Phnom Penh Post: Sokha called out over sanitation comments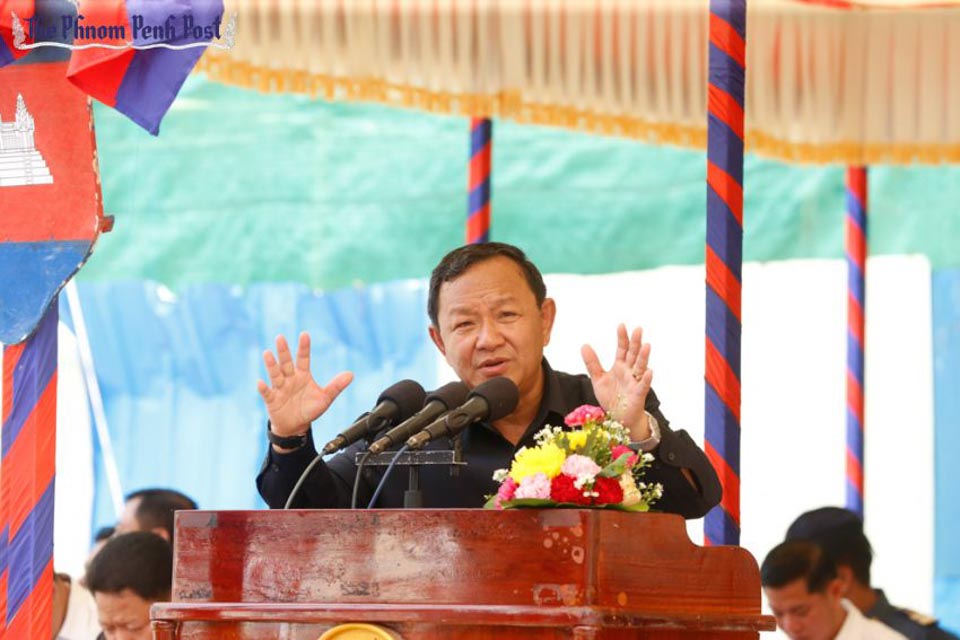 Phnom Penh Governor Pa Socheatvong speaks at an event yesterday in the Phnom Penh's Chroy Changvar district. Photo by: Heng Chivoan, The Phnom Penh Post.
Read the article in The Phnom Penh Post.
Phnom Penh's governor lashed out at CNRP President Kem Sokha's criticism of the lack of improved sanitation in Cambodia yesterday, accusing the opposition leader of being too busy with his alleged "mistress" to be aware of development in the Kingdom.
"Now there is some politician abroad saying that in Phnom Penh there aren't public toilets and accusing Phnom Penh of lacking development," said Governor Pa Socheatvong during a speech to students and civil servants at the inauguration of the Chroy Changvar administrative office.
"He does not know about the city and what the city is doing. He is busy with his mistress and has no time to see the city," Socheatvong added.
Sokha's comments were made in Seattle during a tour of the United States earlier this week, and an audio clip was published online by pro-government news source Fresh News on Monday.
Despite Socheatvong's pointed response, Sokha did not mention the sanitation situation in the city in the portion of the recording published by Fresh News, instead speaking about the conditions in rural areas outside Phnom Penh.
"There are no toilets in homes," Sokha said, adding that travellers must relieve themselves in fields on the side of the road during long journeys."My brothers and sisters suffer greatly from this and I cannot let the country be like this," Sokha added.
But Socheatvong seemed to take the CNRP president's statement as a slight on the city, going on to accuse the CNRP in general of "illegal incitement", bribery and attempting to undermine government achievements.
"If we make the right decision, there will be development, peace and stability, but if we make the wrong decision, the country will have problems," the governor concluded, repeating the CPP's campaign mantra that its continued hold on power translates to security.
CNRP lawmaker Eng Chhay Eang refused to respond to the attack on Sokha, but said the sanitation conditions in Cambodia speak for themselves.
"We have seen that this is a challenge . . . it is disgusting for people to have to defecate in the bushes," Eang said.
Geoff Revell, program director for sanitation NGO WaterSHED, said open defecation is still a major problem, with ramifications on health, the economy and human dignity.
He added that while urban coverage in Phnom Penh is high, "very very little of [the waste] is treated and managed safely".