Portable Sinks for Healthcare Worker Hand Hygiene in Cambodia
Download the paper:
In healthcare facilities, proper handwashing with soap is a critical first defense against the spread of viruses, bacteria, and other pathogens. Having designated handwashing infrastructure is crucial for the safety of patients and healthcare workers.
Globally, however, many healthcare facilities in low income countries lack soap and water for hygiene. A recent study showed that only 44% of all healthcare facilities had soap and running water[1]. In Cambodia, a 2016 assessment of outpatient wards and delivery rooms in five provinces found that only 3% of the 117 healthcare facilities had a functional hand hygiene station at all critical points of care and within five meters of toilets.[2]
In 2018, the Center for Global Safe Water, Sanitation and Hygiene at Emory University (CGSW) partnered with WaterSHED to provide HappyTap portable sinks to hospitals. HappyTap, designed to remove structural barriers that prevent people, especially children and their caregivers, from habitually washing their hands with soap, had previously targeted only households and primary schools. This was the first time HappyTaps were applied to a healthcare facility setting.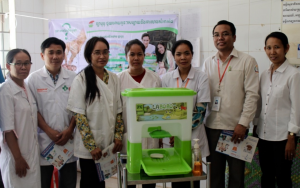 Researchers from CGSW worked with two hospitals that did not have adequate handwashing facilities – one in particular did not have a sink in the pediatric or post-surgery ward at baseline. The initial trial introduced HappyTaps only in staff areas, and then, after four months of success, they introduced HappyTaps for patient use in communal areas.
This trial found that the HappyTap is suitable for healthcare facility environments and did expand access to soap and water for handwashing. The findings demonstrated that jointly deciding with hospital staff in advance where the HappyTap should be located, who the designated users were, and who was responsible for sink maintenance were important aspects of its sustainability.
HappyTap is currently marketed in Cambodia, Vietnam, and Bangladesh. Read more to learn why HappyTap offers an affordable, immediate solution for staff and facility management in healthcare facilities where permanent sinks are not available.
[1] Ryan Cronk and Jamie Bartram, "Environmental conditions in health care facilities in low-and middle-income countries: coverage and inequalities." In International journal of hygiene and environmental health 221.3 (2018): 409-422.
[2] Cambodia National Institute of Public Health, "Public Health Care Facilities on Water, Sanitation and Hygiene of Five Provinces in Cambodia." Full Report (2017)