Business profile – Sorn Naroath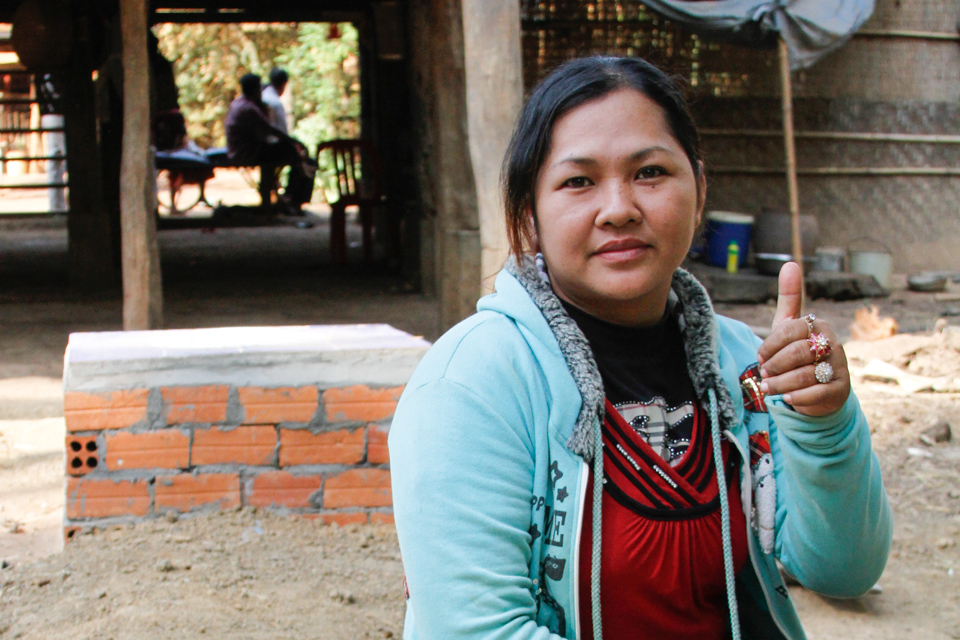 From managing the business to actually working in concrete production, 31-year-old Mrs Sorn Naroath has earned respect, good income and sustainable business growth for her family through her commitment and perseverance. Her efforts demonstrate concrete proof that the being a successful entrepreneur and skilled mason are indeed women's work too.
Sorn Naroath and her husband Nov Chamroeun, 41, have been supplying the concrete-made products in Kompong Trea Commune, Kroch Chma District, Kampong Cham Province since 2001. Previously Chamroeun was a freelance mason making concrete water jars from house to house. Immediately after marriage, the new couple decided to run a shop at home selling prefabricated concrete jars, latrine rings, and some small concrete products according to orders.
Although the business did not grow as prosperously as they would have wished, for ten years it kept them surviving. According to Chamroeun, Naroath played a significant role to make the family stable. On top of being a great housewife, Naroath refused to believe that she was unable to also produce the various concrete products. At first she helped out her husband when there were more than few orders. In a month, they could sell about 10 latrine rings and very few jars, so except on very rare busy days, Naroath had to sell fried bananas from home to balance the income.
"People wanted to buy toilet as a set from one supplier because it was cheaper and more convenient, but we couldn't provide what they wanted. Most of our customers were the villagers nearby who didn't want to transport all the way from the market," she said.
From consumer feedback, Naroath realized that supplying parts of a product would no longer make her business stable, so she saved up some money and with the support of an NGO invested in a slab and a chamber mold to try producing a complete latrine set. Unfortunately for her, making the ceramic pan with slab and chamber box was not an easy process, and she failed to make satisfactory quality products for the costumers. Therefore, she decided to keep making just the latrine rings and water jars and quit the intention to produce other products.
WaterSHED's Support – Tradeoff for business growth
Just when Naroath had concluded that the molds she invested in had been in vain because of the lack of skills, she found an opportunity that according to her "might improve her business significantly or simply ruin it." In October 2011, WaterSHED's team visited Naroath's shop to discuss possible cooperation. The agreement, in the same way that WaterSHED works with the other suppliers, offered help to restructure a more sophisticated business model and also offered techniques related to latrine production. As part of this, Naroath was encouraged to lower the price of the product, recruit sales agents, and provide some additional services, such as delivery, that would be included in the price.
"To be honest, I was excited that I have a direction to go and grow, but I was very skeptical because I can barely make any benefit from the current price," she said, "and now I even have to provide more services to attract them too."
Even though Naroath never experienced selling latrines as a set before, she estimated that her profit per set would be reduced by up $10 per set, excluding all the extra services provided. It was a major decision and took the couple a whole week to consider, yet the WaterSHED team was delighted to finally receive a "yes".
As part of the agreement, Naroath and Chamreoun spent about a week learning from the WaterSHED team about sales and marketing and good quality latrine production. Then they were ready to produce a complete latrine core set including the ceramic pan with slab, chamber box, latrine rings and lid. They also purchased a remorque, a small trailer pulled behind their own motorbike to transport the finished products.
At the cost of 230,000 riels (about 58$), costumers get a complete latrine core set delivered to their front door. A key differentiating factor that is attractive and provides more convenience to the costumers is that the fee also includes installation. The customer needs only to dig the latrine pit, and Naroath will set up everything ready for the owner to complete the shelter.
To market her products more widely, Naroath followed WaterSHED's suggestions and reached out to local commune councilors and village chiefs to become her sales agents. The deal is simple: for every latrine set sold, $1.5 commission is paid to the agent.  Naroath often invites them for lunch at home to discuss the process of the sales.
"I think having sales agents is very beneficial because I can just stay home making toilets and still get a lot of orders," Naroath said, " and I just make sure to keep motivating them to work by providing reasonable incentives to make the relationship healthy."
In just two months, they could see significant improvement in their business. With the convenience they could offer the customers and the outreach mechanism to disseminate messages to different villages and communes, they now receive at least 20 orders each month. To keep up with the orders, the couple decided to invest another $600 to purchase more molds for rings, lids, chamber box, and slabs through WaterSHED, paid by installment over a period of 2 years. Incredibly, they managed to pay it all off in just one year and a half by May 2013.
Now, Naroath is too busy with the latrine business to sell the fried bananas, and a few months ago in late 2013, they were able to purchase a small truck to improve delivery. Naroath's ultimate dream is to run a construction shop, yet to achieve this she needs to expand her current business by recruiting more staff and find more ways to attract poorer costumers in the area to buy her products. She is one step closer to encouraging poorer households to invest in home improvements like getting a latrine since WaterSHED introduced her to work with a local microfinance institution that provides loans for toilets. Naroath pays the MFI a small service charge for every latrine loan disbursed.
"I was excited that WaterSHED will help bring the loan service for poor villagers to buy latrines," she said, "it will help my business and these poor people tremendously, and I do not hesitate to pay a small amount of fee for this service to be provided."
Women in the Toilet Business
Being a housewife, a mother, and an entrepreneur who is also involved in the production process and who goes door-to-door to install toilets was not an easy task even for a very strong man, yet Naroath never thinks women are physically too weak to be in this business.
"I think it is great to be in the job to maximize production and income," she said, "and I never feel like being abused because I have always been appreciated by my husband and neighbor. Besides, it will make me an independent woman when I need to stand on my own."
To Chamroeun, Naroath is an ideal type of wife he could ever ask for, and they share the work not only in the business field but also in the household chores.
"I feel lucky that my wife does not mind getting her hands dirty to help me out with this hard job,"  Chamreoun said, "it is this strong support that has kept us this far, and we will try harder to expand our business so that she can focus only on managing the money and workers."