Business profile – Suy Sokhim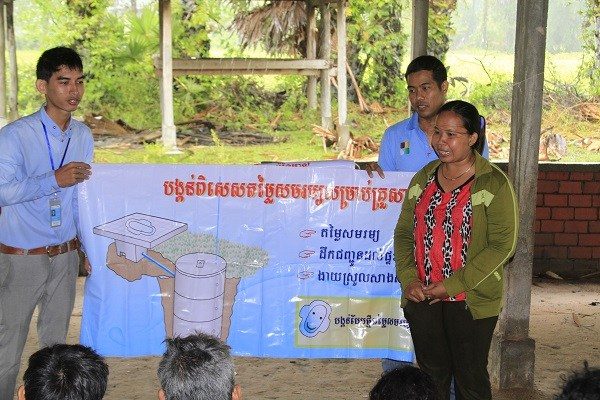 In every morning of the weekday, 35 year-old Suy Sokhim has been performing her role as a soft and caring teacher looking after about 40 children in grade 1 at Svay Kal Primary School. Sokhim, however, would turn to her alter ego the rest of the day and become a fierce businesswoman.
For the past six years, Sokhimhas been building her business in supplying all concrete-made products including core latrines, rings, sewage rings, bricks and pillars for villagers residing around Pon Lei Commune, Bor Ri Bo District, Kampong Chhnang Province.
Although it is her ultimate dream, Sokhim admits that she never imagines her business could be expanded, at least not from the profit of latrine product where she could sell only about 3-4 sets per month. Also, because she could hardly make much profit from the concrete business, so she had to teach to complement the income for the family.
In August 2013, Sokhim was approached by WaterSHED's Sanitation Marketing team, and things change then when she decided to be part of the program.
"I was very skeptical to be involved in the program at first to be honest because WaterSHED staffs persuade me to lower the price of the latrine set from 300,000 to 190,000 riels with the same quality plus delivery," she said, "and selling only a few sets in one month as it was, you know, I wonder how I could ever make any money from this small business."
Albeit hesitating, Sokhim still decided to invest her fortune in the sanitation marketing program because she wishes to see her products accessible to both low and medium income family, and from her observation of WaterSHED's work, she knew she could bring about significant changes to her business and community with her effort.
For just four months, Sokhim has observed the growth of her business. Of all the products she is selling, Sokhim mentioned that currently the sales from latrines contribute the most to her total income.
"Now, I can sell in average 35 sets of latrines in a month, and in one set, I can get 30,000 riels profit, so in a month I can earn even more than 1 million riels, and now that a lot of people know me, my sales for other products, especially latrine shelters are increasing as well" she claimed.
Having high income is not the only thing that makes Sokhim satisfied with her business. With increase volume of order, she is now employing five other people to work, and she is positive that the business will continue expanding. Other than employment, she is very proud to contribute to the community she is living in.
"I am very pleased with this business because I can make people in my village and commune healthier and more hygienic. What is more important is that even the people in remote villages can have the same opportunity to learn about their health during the sales event and can purchase cheap latrine set from me with cheap price and free delivery," she added.
Even though supported by WaterSHED's Sanitation Marketing Program, Sokhim does not totally depend on the project and staffs. She embraces the opportunity and gets engaged to learn skills related to business and build good relationship with local consumers and her sales agents.
"[Bong] Sokhim often joins us during the sales events, and sometimes, she even joins the presentation," said Reun Somret, Area Manager in Kampong Chhang province. "She is now well-recognized in her community, and I am sure this opportunity can help her with the sustainability of the business. She is indeed the best role model for other suppliers to look up to," he added.
With this pace of Sokhim's fast growing business and income, one would expect Sokhim to end her teaching career where she can earn very little money. However, this is not the case.
"I have spent my entire life studying, so I never want to put all the knowledge in vain. I can be a good teacher for the community, and I can also be a successful businesswoman. I will try to be the best of both worlds," she said. "Now people recognize me as the Toilet Teacher," she laughed.