WaterSHED & Vietnam Women's Union Join to Celebrate Global Handwashing Day in Phu Tho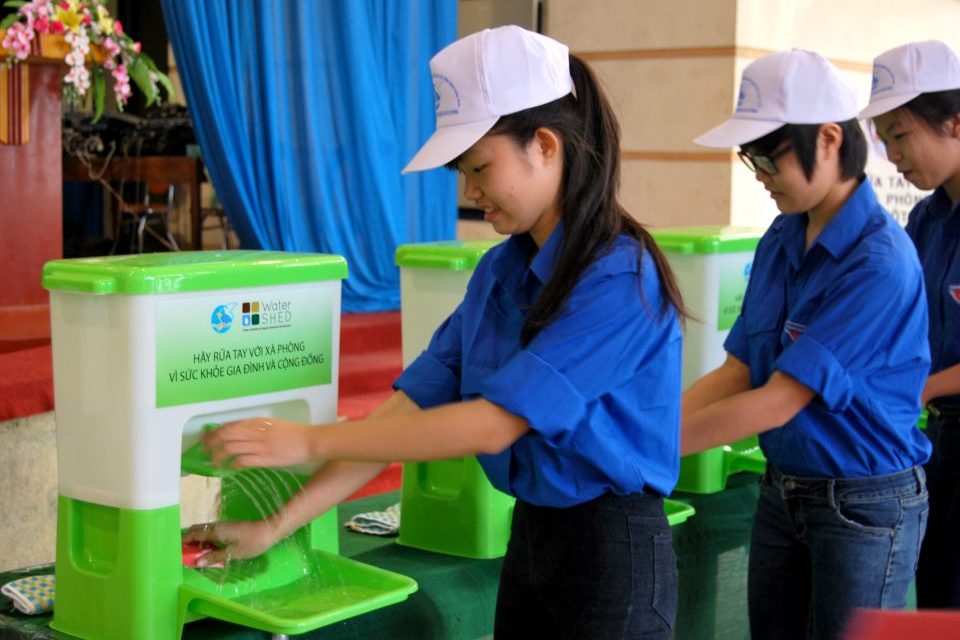 VIET TRI, PHU THO PROVINCE, VIETNAM – On October 14th 2013, WaterSHED and the Vietnam Women's Union hosted a ceremony and musical event to promote consistent Handwashing with Soap (HWWS) and to demonstrate the HappyTap – a uniquely attractive and convenient handwashing device.
The event brought together over 400 people including government officials from the Provincial Department of Health, members of the Phu Tho Provincial Women's Union, local women, and the students from Viet Tri high school. Participants were entertained by a musical performance while learning about hygiene – especially about effective handwashing practice with demonstrations and hands-on experience using the HappyTap device.
With the Behavior Change Campaign and the active involvement of Provincial Department of Health, the Women's Union and the school, the event aimed to consolidate community awareness related to hygiene. Handwashing with soap is widely recognized as one of the cheapest, easiest, and most effective means to prevent communicable diseases.
"It [the HappyTap] is easy to install, easy to operate, and with the cool design like this, it's worth it to buy. Now we all know washing hands with soap is important," said Ms. Lai Thi Dung, a local housewife participating in the event.
During the event, official delegates used HappyTaps to make an attractive demonstration of HWWS. Compared to temporary or "Do-It-Yourself" handwashing stations, HappyTap is more beautiful, modern, and durable, and is easier to install. WaterSHED aims to support local businesses by facilitating demand generation for this new hygiene invention, with the final goal of making consistent hygiene practice a norm in rural society.
"It is WaterSHED's pleasure to work together with the Women's Union to promote Handwashing with Soap practice among Vietnamese people. The most exciting part for me is that most of the mothers attending today said they would like to invest their own money to purchase a HappyTap for their family," said Ms Ai Huynh, WaterSHED's Project Coordinator. "I am thankful for the previous Behavior Change Campaigns that have successfully established common knowledge, which makes now the right time for the private sector to introduce and commercialize a household handwashing device."
The Women's Union has provided essential support for HappyTap since the initial design phase. Many of its members have expressed interest in becoming commissioned sales agents, and the organization will officially support the HappyTap in a promotional role and by inviting sales agents to group meetings.
"I am surprised by the improvement of the aesthetics and the function of the device by WaterSHED Vietnam. The creativity in the design has a high potential to really change the family hygiene habit!", said Ms Nguyen Thi Thanh Huong, Vice Director of Social and Family Department, Vietnam Women's Union.
The purpose of the HappyTap project is aligned with the Women Union's national campaign "Vietnam Sustainable Family Development Project" (2011-2020). The major sub-components of the campaign are "Five No's, Three Cleans". The "Five No's" comprise: no poverty, no criminal offence, no domestic violence, no more than 2 children, no malnutrition and no children drop-out of school; and the "Three Cleans" are: clean house, clean kitchen, clean gate". The HappyTap helps to enable both a clean kitchen and a clean house.
The Women Union is a governmental organization assembling women from villages with total membership of roughly 13 million women across 10,472 local chapters. Its duty is to support and educate women in economic, social and political issues among which hygiene and sanitation are a top priority. During stage 1, WaterSHED cooperated with WU in two provinces with a mutually positive experience. And now, WaterSHED is proud to join hand hosting the 2013 GHD with WU at the national level.
Global Handwashing Day October 15 is a worldwide annual celebration to promote handwashing with soap. Each year, 200 million people join the day in over 100 countries worldwide.
This project is made possible by the generous support of the American people through the United States Agency for International Development (USAID).