WaterSHED's Hands-Off Sanitation Marketing Wins 1st Prize in Reed Elsevier Environmental Challenge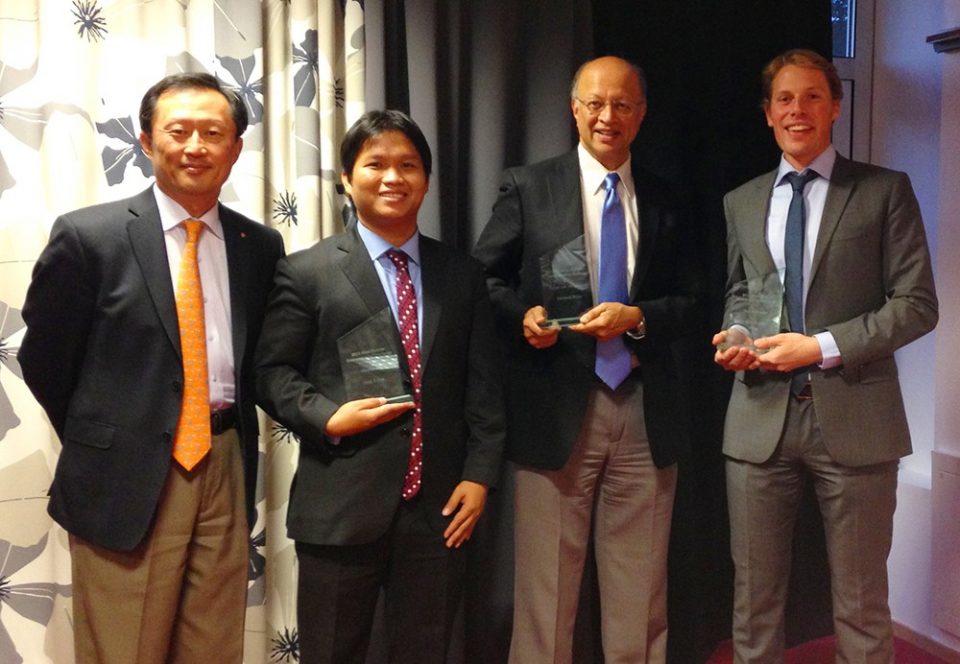 STOCKHOLM, SWEDEN – WaterSHED's innovative market-based approach to sanitation was recognized with First Prize in the Reed Elsevier Environmental Challenge, announced during the Stockholm World Water Week.
The Reed Elsevier Environmental Challenge 1st Prize will award WaterSHED USD50,000 to design and test-market an improved toilet shelter that will help to unlock access to toilet facilities for a significant portion of rural Cambodians. The goal is an affordable, attractive, and accessible shelter made using durable and environmentally safe materials.
In rural Cambodia, an estimated 1.8 million households do not have access to safe sanitation. The goal of WaterSHED's Hands-Off program is to use local market channels to improve the supply of Cambodia's safe, sustainable, and affordable sanitation products and services. It ignites consumer demand by directly addressing consumption barriers and focusing on the motivators for households to prioritize the purchase and use of sanitation products. Since 2011, it has enabled the sale of more latrines than any other program of its kind in the world, supporting more than 150 local private businesses that work closely with sales agents, input suppliers, and local government.
With a network that successfully manufactures and markets the latrine core (the plumbing), WaterSHED believes that one of the most significant remaining barriers to toilet adoption in Cambodia is affordable access to a permanent shelter (the above-ground amenities including walls and roof).
"Villagers hesitate to buy or to set up a latrine – even if they have all the material in hand – as they are waiting until they can afford to build a luxurious latrine shelter. The wait can be forever!" said Kom Ravy, a toilet supplier in Kong Pisei district, Kampong Speu province.
WaterSHED expects this effort will encourage more than 50,000 households to build latrines within the next two years, with far-reaching impacts across the region.
Presenting at the award ceremony in Stockholm, Mr Aun Hengly, WaterSHED's Executive Director said, "Our low-cost shelter will be designed for rural Southeast Asia, but we believe the technology, and more importantly the approach of treating people as consumers, not beneficiaries of aid, has enormous scope for replication and reducing poverty."
The Reed Elsevier Environmental Challenge awards innovative and practical ideas from around the world to improve access to water and sanitation. From 140 original applications, a shortlist of five candidates was chosen; the winning projects are replicable, scalable, sustainable and innovative, with practical applicability.
"Every part of Reed Elsevier's business is already involved in trying to help professional scientists and policy makers to solve the challenges of water and sanitation for the greater society, and we are happy to award this innovative idea so that it can be put into action." said Youngsuk Chi, Director of Corporate Affairs at Reed Elsevier.
The Reed Elsevier Environmental Challenge was launched in 2011 to support the Water for Life Decade, established by the UN General Assembly between 2005 and 2015, in order to reduce by half the proportion of the population without sustainable access to safe drinking water and basic sanitation.
About WaterSHED
WaterSHED is a local NGO with activities in Cambodia, Laos, and Vietnam. Its mission is to engage local enterprises and government in the development of sustainable market-based approaches that empower households to be active and informed consumers of water, sanitation and hygiene products and services. www.watershedasia.org | @watershedasia
About Reed Elsevier
Reed Elsevier Group plc is a world leading provider of professional information solutions. The group employs approximately 30,000 people of whom half are in North America. Reed Elsevier Group PLC is owned equally by two parent companies, Reed Elsevier PLC and Reed Elsevier NV; the combined market capitalization of the two parent companies is approximately £18bn/€21bn. Their shares are traded on the London, Amsterdam and New York Stock
For more information contact:
Mr. Mesa Lang (Cambodia)
mesa@watershedasia.org
+855-12-355-207
Ms. Emmy Stevens
emmy.stevens@reedelsevier.com
+44 (0) 20 7166 5612