USAID & WaterSHED Engage the Private Sector to Market Handwashing in Vietnam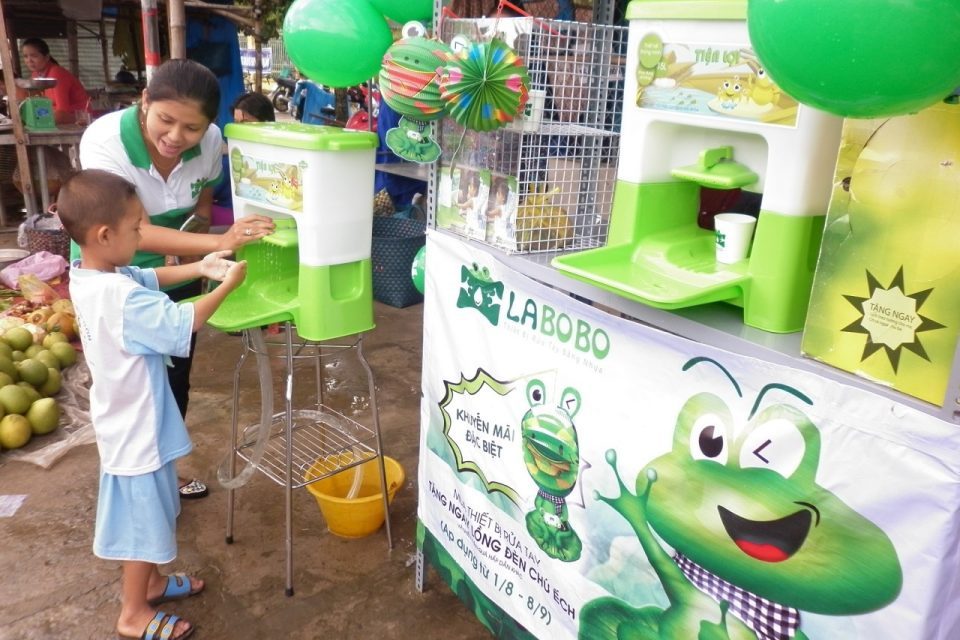 HO CHI MINH CITY, VIETNAM | WASHINGTON, DC – The U.S. Agency for International Development Development Innovation Ventures (DIV) program announced an award to WaterSHED to scale-up the commercial production and distribution of the HappyTap handwashing device. Led by the local private sector in the Mekong Delta Region of Vietnam, the partnership aims to improve handwashing practices for over 280,000 rural Vietnamese people, while at the same time building a sustainable supply chain and market for commercial handwashing products.
The concept of the HappyTap device, originally conceived through the World Bank Water & Sanitation Programme's Global Handwashing Initiative, is to bring together soap and water in an affordable, purpose-built, and attractive handwashing station that makes hygienic behavior convenient and easy. Developed through a rigorous design and iterative testing phase through 2010, the HappyTap product reflects the right mix of aesthetic appeal, functionality, durability and affordability.
This combination helps to overcome a key barrier to consistent handwashing. After many years of hygiene promotion in Vietnam, the fundamental obstacle is not a lack of knowledge or awareness, but the need for a convenient, dedicated place for handwashing with soap that can also serve as a physical reminder to reinforce behavior. The HappyTap is an aspirational product that gives households a way to incorporate handwashing with soap into daily routines, and thus bridges the gap between knowing and doing. In Vietnam alone, the health impact of poor sanitation costs an estimated $262 million each year. Handwashing is one of the most cost-effective tools for alleviating this tremendous disease burden, borne especially by children under five.
"I like it [HappyTap] because it is convenient. I don't have to go to the outdoor basin or concrete jar to get the water every time I want to do handwashing" said La Thi Mi Dung, Head of Women Union, Tan Loc Village, Vinh Long Province, "and villagers ask me when this device is coming to this area."
This DIV 'Stage 2' award of USD 650,000 builds on earlier USAID investments. In 2012 under a DIV Stage 1 pilot, WaterSHED recruited local manufacturing and distribution partners and validated the marketability of the device through test-marketing across Tien Giang and Vinh Long provinces in southern Vietnam. In the current 2-year project, WaterSHED will develop a commercial-grade marketing campaign for broad dissemination; train sales agents and promoters within the direct promotions channel; facilitate the recruitment of domestic and international distributor partners, and rigorously evaluate the impact of the project.
"It is great to see a grantee continue to test their solution using the DIV model," said DIV's director Jeff Brown. "We look forward to furthering our partnership with WaterSHED as they build evidence of the commercial viability of safe handwashing products in Vietnam and beyond." 
WaterSHED's experience shows that commercial viability is central to the long-term sustainability of project impact. The expected outcome of WaterSHED's efforts to create consumer demand and facilitate local supply is a dynamic commercial market for handwashing devices in Vietnam. WaterSHED's goal is to enable businesses to earn an attractive income, empower consumers with products that support healthy habits, and cement large-scale behavior change with consistent, practiced behavior. Key partners toward these efforts include the Vietnam Ministry of Health and the Women's Union, whose objectives are aligned for maximum hygienic practice.
"We hope to achieve consumer uptake of at least 70,000 units used by more than 280,000 people, in the near term, and we will measure how the device makes it more exciting and convenient to change awareness into habit," said Ms. Ai Huynh, WaterSHED Project Coordinator. "In the medium term, our ambition is that private sector actors are marketing HappyTap by themselves while NGOs and government can lessen their focal support," she added.
This DIV Stage 2 project will be implemented from September 2013 until December 2015 and was made possible with the generous support of the American people through the U.S. Agency for International Development.
###
About WaterSHED
WaterSHED is a local NGO with activities in Cambodia, Laos, and Vietnam. Its mission is to engage local enterprises and government in the development of sustainable market-based approaches that empower households to be active and informed consumers of water, sanitation and hygiene products and services. www.watershedasia.org | @watershedasia | @HappyTap_TM
About USAID'S Development Innovation Ventures
USAID's Development Innovation Ventures (DIV) is an investment platform that uses open-source innovation to find, test, and scale evidence-based, cost-effective ideas to millions around the world. For more information, visit www.usaid.gov/div
For more information contact:
Mr. Mesa Lang (Cambodia)
WaterSHED
mesa@watershedasia.org, +855-12-355-207
Mr. Nguyen Van Quy (Vietnam)
WaterSHED
quy@watershedasia.org, +84-1665-639-787
Ms. Kristen Gendron (Washington, DC)
USAID (Development Innovation Ventures)
kgendron@usaid.gov, +1-202-712-5173