Thousands of Rural Cambodians Gain Access to a Latrine on National Sanitation Day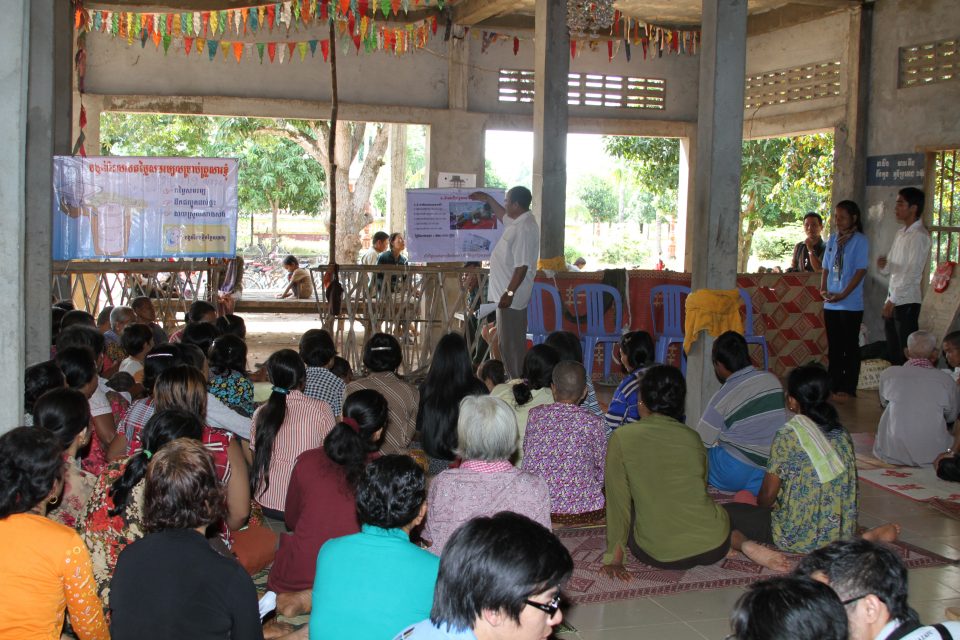 PHNOM PENH – An estimated 3,125 rural Cambodians across seven provinces will gain access to safe sanitation as a result of purchasing toilets on Cambodia's National Sanitation Day. The 665 household toilet purchases represent over 30,000 USD in new business for the local suppliers that provide the hardware, delivery, and installation packages.
Under the theme, "Better Sanitation Begins with You" the 4th annual Cambodian National Sanitation Day was celebrated nationwide to bring into focus that sanitation is everyone's responsibility, and that improvements in sanitation contribute to economic development, public health, personal dignity, and the environment.
To mark this special event, WaterSHED joined with the Provincial Departments of Rural Development to organize 53 village-level events in which 2,043 villagers
participated on November 12 & 13 across seven provinces: Kampong Speu, Kampong Chhnang, Kampong Cham, Takeo, Pursat, Pailin and Battambang. District governors, commune councilors and village leaders also participated to encourage community action.
"We helped to facilitate these events with the aim of changing people's behavior and to encourage them to adopt safe toilets. Our team engages the local authorities and toilet suppliers to promote the importance of sanitation," said Phav Daroath, WaterSHED's WASH Marketing Manager. "We want to make it simple by giving clear messages that encourage people to change behavior, and by linking them with affordable purchase opportunities presented by local suppliers."
Cambodia currently suffers annual economic losses estimated at $448 million due to a lack of sanitation.
Attending in a sale event in Damnak Village, Kea Commune, Battambang Province was 42-year-old Nhaen Nhoeung, a construction laborer working in Thailand. "I have learned a lot regarding the importance of using safe water and latrine through the presentation today, and I feel really bad for my old parents and small children whose health and safety have suffered just from going to defecate," he said.
Nhoeung's household is one of the 665 households who made a choice to invest in a latrine on National Sanitation Day, and one of the nearly 60,000 households that have purchased unsubsidized toilets enabled through WaterSHED's Hands-Off Sanitation Program since 2011.
Accelerating rural sanitation uptake and maximizing market penetration for the public good cannot be accomplished by the private sector alone. Cognizant of the importance of effective government leadership – especially at the local level – WaterSHED has sought to engage local leaders to become civic champions in their communities.
"I am very pleased to attend today's event, especially when I see a lot of villagers deciding to purchase latrines for themselves" said Meas Seur, Commune Councilor in Kea Commune, Morng Reussey District, Battambang Province. "I believe the villagers are convinced that having toilet is very important for themselves and family, and they think the price and service offered by the local supplier and the installment payment option are very attractive."
According to the National Policy on Water Supply and Sanitation of the Ministry of Rural Development adopted in 2003, Cambodia will target 100 percent coverage of safe water and sanitation by 2025. The celebration of the National Sanitation Day was approved by the Cambodia Royal Government on May 28, 2010 aiming to promote the understanding and practice of hygiene and sanitation behavior in family and community.
"National Sanitation Day is special to promote individual and community action, and we are very satisfied with the result. But we actually hope to make every day like this." Mr. Phav added.
ABOUT WaterSHED
WaterSHED is a local NGO with activities in Cambodia, Laos, and Vietnam. Its mission is to engage local enterprises and government in the development of sustainable market-based approaches that empower households to be active and informed consumers of water, sanitation and hygiene products and services.
For more information,
email to: info@watershedasia.org
and follow us on Facebook & Twitter