HappyTap portable sink to enter Bangladesh market with support of the TRANSFORM initiative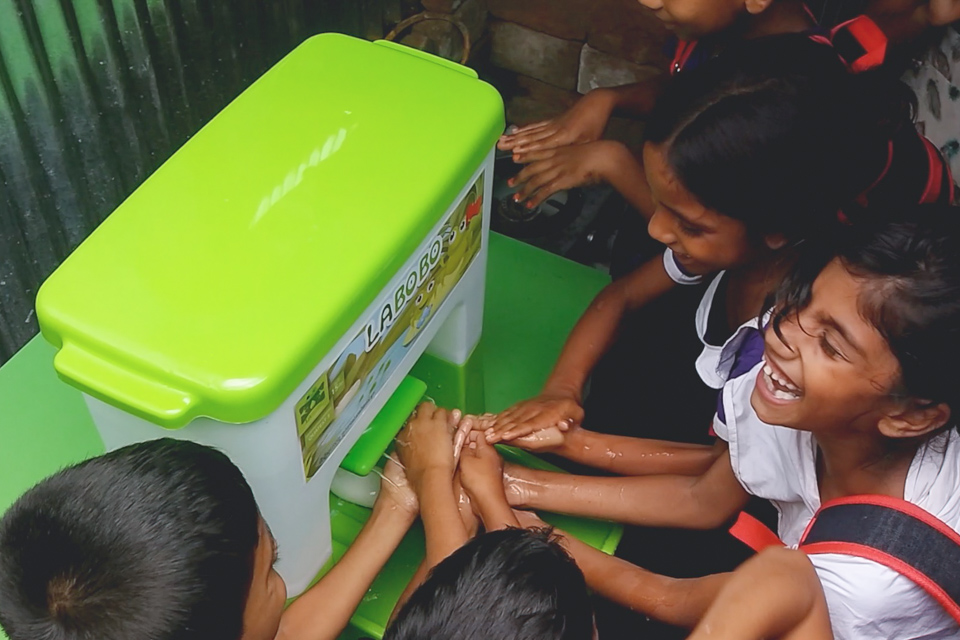 Dhaka, Bangladesh – HappyTap Co. is partnering with TRANSFORM to develop and test disruptive market-based solutions for handwashing in Bangladesh. With support from TRANSFORM, HappyTap Co. will tackle poor hygiene in Bangladesh with the launch of the HappyTap portable sink and expansion of its social business into the South Asian market.
The hygiene crisis in Bangladesh.
Bangladesh has long been lauded for stopping open defecation. The South Asian country dramatically improved sanitation coverage from 42% to nearly 100% in a little more than a decade. As a result, Bangladesh is often cited as a success story in a region that is struggling to end open defecation.
Although the country has made huge strides in sanitation, handwashing — a critical component to prevent infectious disease — remains a challenge. Health experts estimate that 65% of deaths caused by diarrheal disease (2.4 million globally) could be prevented if proper hygiene accompanies safe sanitation and clean drinking water. But in Bangladesh few people are washing their hands consistently. A 2012 study showed that despite a high awareness (95%) of critical times to wash hands, less than 10% of respondents were doing so before eating and even fewer before feeding babies.
While education campaigns have successfully generated high handwashing awareness, they have done little to inspire people to actually do it.
A customer-focused approach to hygiene.
HappyTap Co. tackles the problem with a different approach – leveraging a market's high hygiene awareness and closing the gap between knowing and doing. The social enterprise manufactures, and sells the HappyTap, a portable sink purpose-built with behaviour change top of mind. The hand washing device was designed in South Vietnam where awareness was equally high but practice remained low.
The HappyTap is one of the only, if not the only, commercially developed behavior change devices for handwashing on the market. The product is designed to be toy-like – brightly colored, with rounded edges, and decorated with cartoon character labels — to attract children and, by proxy, parents to wash their hands consistently. It is also made of sturdy food-grade plastic, with a 15-liter water tank made easy for short trips to the rainwater tank and a sprinkler spout that conserves water but fully covers hands during washing. All told, it is an unmistakable reminder for people to wash their hands and makes the task as convenient as possible.
In 2015, HappyTap Co, tested the hand washing device in the Bangladesh rural market. The response from mothers, caregivers, and teachers was overwhelmingly positive, signalling HappyTap's potential to tackle one of the most stubborn public health problems in a key Base-of-Pyramid consumer market.
About TRANSFORM.
TRANSFORM is a joint initiative between the UK's Department for International Development and Unilever, with the aim to improve the health and well-being of 100 million people in Africa and South Asia by 2025.  TRANSFORM will support HappyTap Co. with recruitment, behaviour change insight, market research, multi-channel marketing campaigns, and distribution.