Champion Profile – Making Handwashing A Habit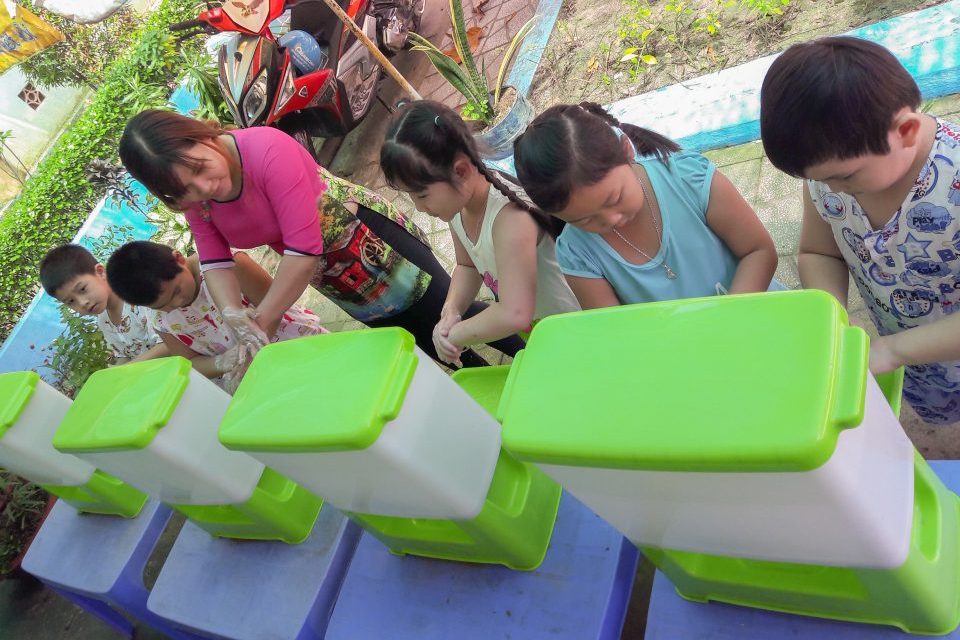 ABT Kindergarten is located just 80 kilometers from Ho Chi Minh City. But despite its proximity to Vietnam's major metropolis, the school is in a rural town situated off a newly paved country road in Bến Tre province. The small school enrolls less than 100 young children, many at an age where they learn new sets of behaviours that keep them safe. One of the most critical lessons – how to properly wash their hands.
Many of us can't remember the first time we were propped up on a parent's lap and told to rub our hands together under water. We could hardly remember how we learned the six steps to getting germs off our hands. As adults, washing our hands requires no thought. But it is likely that, in our formative years, our preschool or kindergarten teacher made sure we washed our hands after every bathroom visit or before we ate our lunch until it became habit and we no longer needed to be reminded.
Ms. Huynh Thi Kieu Trang is one such teacher. At only 25 years old, she has already been teaching kindergarten for six years. She recognizes that teaching children new behaviours takes patience and creativity. "I need to make the activity fun for kids rather than a compulsory rule they need to follow at school," Huynh said. "It's a matter of how you explain it."
Her trick is to use simple ideas to convey a complex message. "Children don't understand complicated ideas about bacteria or disease." she explains. "Kids cannot imagine such things." So Huynh uses worms as an example to illustrate the consequences of not washing hands. "I tell them there are super tiny worms on all the objects around us. 'When you touch these objects, the worms end up on your hands. And how do you feel when you eat a worm? You will feel bad and get sick! How can you prevent them from travelling into your mouth? You wash your hands with soap. The water and soap will kick the worms off your hands'."
This year, Huynh has had some additional help in teaching children how to wash their hands. ABT Kindergarten was selected as one of the schools who received several LaBobo portable sinks as part of the HappyTap in Schools Project headed by HappyTap Foundation. The LaBobos are placed outside so kids can wash their hands as they head back to class after playing in the yard. "At first the kids didn't know how to use the LaBobo. Once I showed them they were really excited," said Huynh. "The colour and design is really attractive to kids. Now they use it a lot."
We recognize many schools lack the facilities and resources to properly teach children how to wash their hands, a simple yet life-saving skill. HappyTap Foundation aims to equip 300 in-need schools across rural Vietnam with LaBobo portable sinks. With LaBobo, we want to inject fun into a critical lesson. Help us reach our goal by visiting www.happytap.net/en/.