How Do We Measure Women's Empowerment?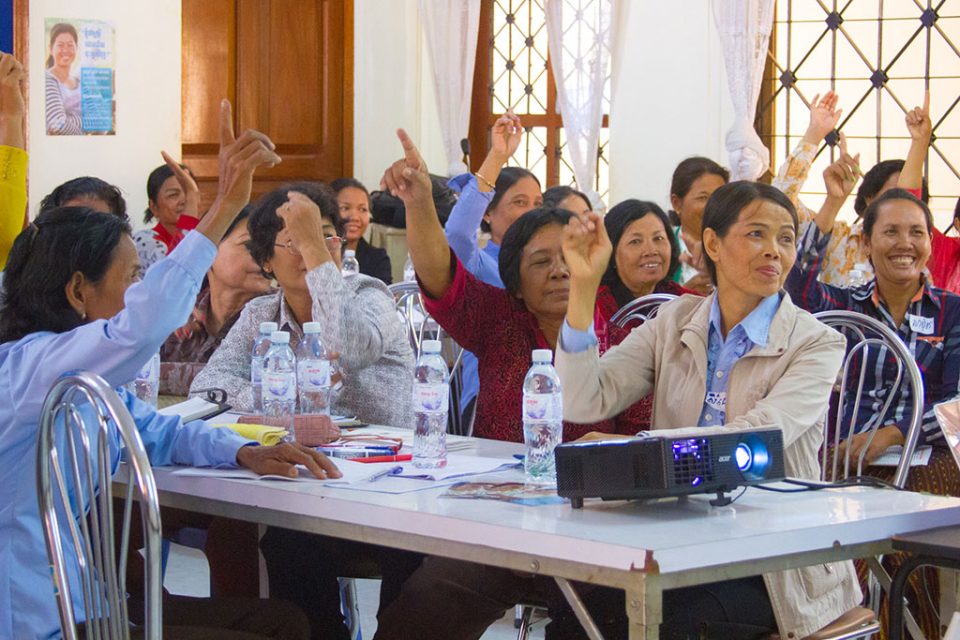 As we launch our new Women's Empowerment program, one of the biggest challenges we will face is measuring success. Our aim is to get more women engaged in the water, sanitation and hygiene industry as informed consumers, educators and business leaders. As Program Manager Sarah van Boekhout mentioned in our last blog post, 'women's empowerment' can be a slippery term to conceptualize. But without proper metrics to inform our work, development programs may be futile.
Janita Bartell is WaterSHED's Social Behaviour and Research Specialist. She heads the research and analysis for our women's empowerment program. As we embark on our 2-year journey to get women more involved in WASH, Janita will be on the sidelines monitoring, surveying and analyzing what's working and what's not.
Fresh from her week in Nairobi at the Bill & Melinda Gates Foundation conference on "putting women at the center of development" she speaks about what it means to measure "women's empowerment".
For many years I had a recurring dream. I was sprinting around a track and, as I gathered speed, I felt I was being pulled back by rubber bands attached at my wrists and feet. At some point it was even hard to remain in my position without being pulled back.
In my waking hours, it appears little has held me back. I had access to good education, and that education and resulting network has provided me continual job opportunities and fairly secure income. I grew up in a largely violence-free environment. My passport and the social norms in my home country allow me almost unlimited mobility and, ultimately, I have agency over my life.
By most standards, I would be considered "empowered". Yet such a view would miss important intangible obstacles holding me back from reaching my full potential.
That's because current measures such as income and education miss the full picture, for me and for billions of women around the world. When it comes to gender equality, we need better metrics to understand what is holding women back. We need to know how to break free of those invisible rubber bands and, importantly, when they're finally broken.
Last month, with representatives from 21 other projects from around the world, we came together in Nairobi to explore the questions: What is the essence of empowerment and how can we measure it? As so often in social sciences the answer was, 'it depends'.
We all agreed that the meaning of empowerment depends on the particular context, and empowering women requires a creative, holistic approach appropriate to the context. But when randomized controlled trials are considered the gold standard of social research and evaluation practice, it isn't easy to convince others of findings that rely on alternate research methods.
Over the next two years, we will map the social network of women in rural Cambodia to understand their main influencers – the people they associate with and seek advice from; we will track toilet sales and overall WASH market performance; we will use standardized questionnaires, action research, and in-depth interviews to capture how our project triggers change in water, sanitation and hygiene. Social scientists call this "methodological triangulation", but it is easier to think about is as a jigsaw puzzle. Piece by piece we are putting together a picture of the outcome of our activities.
But the challenge does not stop there. We will seek not only to measure how our project affects the women we work with and their ecosystem, but most importantly we need to find a way to communicate this insight – turning data into useful, accessible information – to ensure our work and findings transcends borders. At the conference, Nyaradzayi Gumbonzvanda, General Secretary of World YWCA, impressed upon us the idea that our data needs to tell a story that resonates with people and that makes the invisible visible. This is how to give a voice to those who are seldom heard.
In Nairobi we collectively agreed that smart research has the potential to change how we think about women's empowerment and how a well-designed intervention will look. But our success will hinge on having a narrative that is strong and powerful enough to speak to policy-makers, researchers, practitioners, and the greater public to spark a fire that will shine beyond the immediate outskirts of our own community of practice, shedding light on the true reasons why women and girls are held back.