Women in WASH Profile – Samros Nov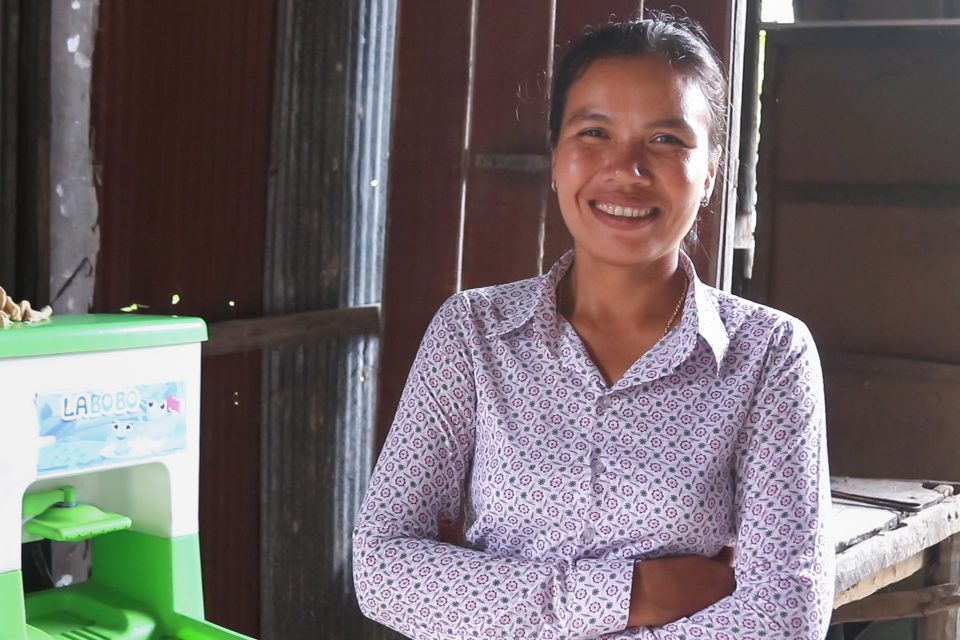 WaterSHED developed the​ Women in WASH Program to bring more women into the water, sanitation, and hygiene (WASH) market. WEwork Collective is one component of the program, which provides women with business skills training, opportunities for mentorship, and a platform for the exchange of ideas and networking. The Collective had more than 250 women participants from across Cambodia.
Similar to our Civic Champions program, WEwork Collective was designed to equip women participants with not only specific skills related to WASH, but general skill sets that they can apply in their everyday life and work — such as problem solving, negotiation, financial literacy, sales & marketing, leadership, etc.
We spoke with one of the participants of the Collective to better understand her context and what she gained from the program. Samros Nov is an active member of her community and a housewife with a great deal of responsibility at home. She also owns a number of small businesses in her village in Takeo province, around 75 km southwest of Phnom Penh.
When we first met Samros in the WEwork Collective, she worked in the home and usually stayed home — tending the farm and looking after her children. She said she lacked the confidence to do things on her own. "I had always wanted to have my own business, but I was afraid of making a loss.", Samros said during the interview, "[…] I hesitated with everything." She also said that her marriage was not happy — they were under a lot of pressure from living on a low income, and her and husband were not getting along.
In her village, she had been selected to be a village council member, responsible for children and women affairs in the community such as helping to solve dispute within the villagers' families, etc. Chosen for the role because the village chief knew her father (a former commune councilor) and father-in-law (a former village chief), Samros had no prior experience in government or community leadership.
Despite being a hard worker and having the interest to be involved in her village, Samros was stuck. She couldn't figure out how to turn these challenges into opportunities.
Then, using what she learned in training and peer exchanges in the WEwork Collective, she started to notice a shift in her interactions. First from the village chief, "He said, at first, he chose me [to become a village council member] only on a whim, but recently he said that out of all the village council members, I am the one who stands out the most."
Her relationship with her family also improved partly because she had a chance to reflect on how she speaks with them. She learned that every time she uses less harsh words, she would always receive better responses from her partner and her children.
Joining the WEwork Collective has also boosted Samros's confidence to pursue her business ambitions. She kick-started her business ideas by opening a rice milling service and beginning a utility fees collection service in her village. As a result of perhaps not only working harder but working smarter, her family's income and conditions have started to improve.
Samros didn't stop there. She had always wanted to see improvement in her village as well. Using her free time, she would make rounds in the village in her capacity as a village council member, promoting toilets and other health practices to the villagers. Samros is also a member of the Village Saving Group Committee, making small loans available to fellow villagers.
Today, Samros has a lot to be proud of and a remarkable story. She urges women to never give up when faced with such problems and to seek help when possible.