WaterSHED Ventures Launches Quick-Install Toilet Shelter Into Rural Market in Cambodia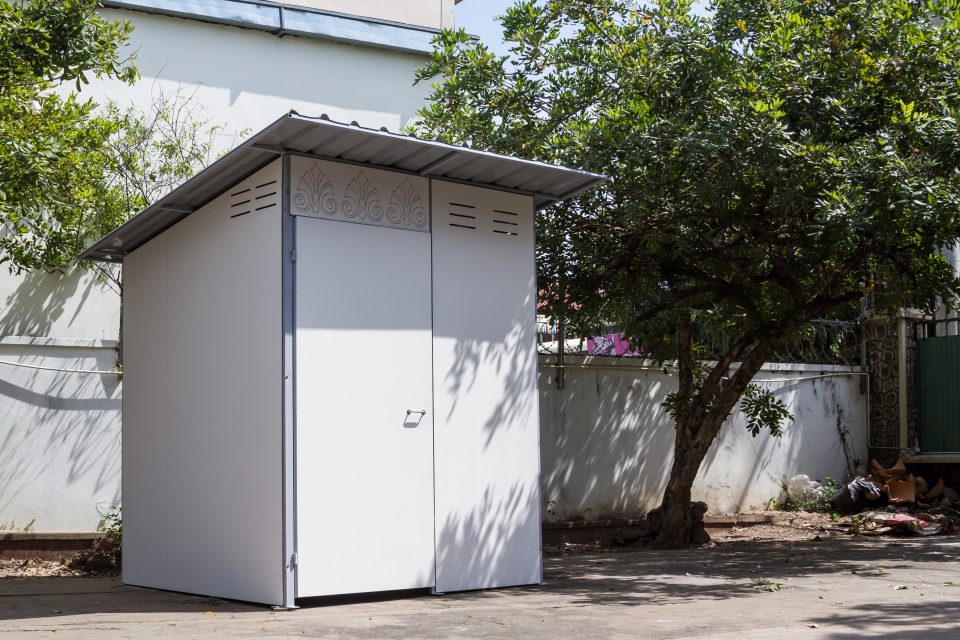 Phnom Penh – WaterSHED Ventures, a Cambodia-based social business, has launched its Paradise Shelter in the rural market. The company specializes in innovative water, sanitation, and hygiene products for the aspirational BOP consumer. Its latest product – the first of its kind – is expected to significantly boost sanitation in rural communities.
Cambodia's Sanitation Crisis
Cambodia has struggled to address the problem of widespread open defecation for decades. Years of NGO-led education campaigns and hundreds of millions of dollars in subsidies did little to curb the practice in rural areas. Sanitation coverage remained low: even by 2010 more than 75 percent of the rural population were still without access to a toilet.
A lack of sanitation (i.e. defecating outside) is a serious global issue that puts families, and especially young children, at risk of diarrhea and other infectious diseases. According to the World Health Organization, diarrhea alone kills nearly 800,000 children every year, which is more than malaria, measles, and AIDS combined.
Changing The Trajectory: The Market Solutions
But over the last six years, Cambodia has made tremendous progress. In 2015, Cambodia was ranked third among countries with the fastest decline in the rate of open defecation. Now more than half the rural population has access to a toilet and, last year alone, the government reported a near 10% increase in sanitation coverage.
The rapid acceleration is largely due to the emergence of a rural market for affordable toilets. WaterSHED, a local NGO, began investing in the development of that market in 2010. "Selling toilets in rural Cambodia may not seem revolutionary, but when we started six years ago most people thought our approach to build the market would fail," said Geoff Revell, WaterSHED's Program Director. "Many leading development organizations could not imagine rural families as empowered consumers, instead of beneficiaries in need of help."
Breaking Down Barriers
WaterSHED's work began with efforts to deeply understand consumer motivations to install and use a toilet, as well as the barriers preventing them to do so. The NGO trained local construction businesses to manufacture and promote ready toilet kits that were both affordable and attractive to rural consumers. It introduced effective sales and marketing activities to stimulate consumer demand for toilets, and engaged local governments to continue supporting the burgeoning market to ensure it works sustainably.
As a result, the local businesses supported by WaterSHED have generated more than USD $8 million in revenues and enabled hundreds of thousands of consumers to overcome the barriers to safe sanitation. Most importantly, households that have made the decision to invest in sanitation overwhelmingly keep using their toilet. "WaterSHED is the proof of concept for a vastly different way to address rural sanitation," said Lin Lu, WaterSHED's Director of Strategic Partnerships. "The impact reveals that WaterSHED's approach sets the benchmark for scalability and sustainability in sanitation interventions. And we're doing it at a fraction of the cost of other leading organizations trying to solve this issue."
The Paradise Shelter
Despite advances in the rural market, WaterSHED's own research showed a persistent barrier to toilet purchase was the desire for an expensive and labour-intensive, custom-built brick shelter. A 2014 study by WaterSHED stated, "Among those who have purchased but not yet installed their latrine, the most common reasons for delaying were that they were saving money for the shelter, saving money to hire labour, and were waiting for free time to build."
With a competitive prize from RELX (formerly Reed Elsevier) to explore alternative designs that reduce installation time and cost compared to a brick structure, WaterSHED engineered the Paradise Shelter. It's the first mass-produced latrine shelter on the market in Cambodia, and consists of prefabricated modular panels that bolt together without the need for special tools. The structure is made from lightweight but durable materials and can be flat-packed for easy transport. Families can now install a toilet shelter with minimal labour and at a reduced cost.
The Paradise Shelter is being sold and marketed by WaterSHED's subsidiary, WaterSHED Ventures Co. Ltd. With a seed investment from WaterAid Cambodia and a network of more than 200 local businesses, WaterSHED Ventures is well positioned to reach consumers across Cambodia. Pagna Ukthaun, COO, said the Paradise Shelter is already gaining traction in the market. "Our distribution partners are really keen to carry this product" said Ukthaun. "With the overwhelmingly positive feedback we're receiving both from suppliers and customers, I have full confidence this product will compete well in the market."
A press kit is available online with photos, logos, and additional information.
For more information about WaterShed or WaterSHED Ventures, or for any press inquiries including booking interviews, please contact.
Julia White
Communciations Manager
WaterSHED
julia@watershedasia.org
mobile/whatsapp: +855 77 530 815
For more information about WaterAid Cambodia please contact:
Ms. Monory Sarom
Campaign & Communications Coordinator
WaterAid Cambodia
monory.sarom@wateraid.org.au
Mobile: +855 12 690 495
About WaterSHED Ventures
WaterSHED Ventures is a water, sanitation, and hygiene (WASH) products company that offers modern choices for the aspirational BOP consumer. Based in Cambodia, the team has introduced Paradise Shelter – the world's first flat-packed permanent latrine shelter for the rural consumer. It also distributes the award-winning LaBobo portable sink, designed to help mothers and children change handwashing habits, and has been featured in Al-Jazeera, Reuters, and Huffington Post.
WaterSHED Ventures was a finalist in the 2016 Sankalp Southeast Asia Awards. In 2017, Pagna Ukthaun, COO, was invited to the Skoll World Forum, an annual gathering at Oxford's Saïd Business School to "advance entrepreneurial approaches and innovative solutions to the world's most pressing problems."
WaterSHED Ventures is supported with seed investment from WaterAid Cambodia, and incubated by WaterSHED NGO.
For the latest news, follow WaterSHED Ventures on Facebook.
About WaterSHED
WaterSHED uses a systems-approach to build the rural market for water, sanitation, and hygiene products and services across Southeast Asia. Based in Cambodia, WaterSHED uses in-depth research to identify strategic opportunities and gaps in the wider system, and then works to strengthen the capacity and relationships between key actors to create a more dynamic and resilient market.
By engaging key actors in the system, including small businesses, customers, and local government, WaterSHED facilitates the adoption of toilets, water filters, and handwashing stations – building a market that functions independent of traditional aid. To date, WaterSHED's hands-off marketing approach has generated more than USD $8 million in revenue for rural businesses, and has helped accelerate sanitation coverage from a stagnant 25% to 56% in six years.
WaterSHED is a twice winner of USAID's Development Innovation Ventures competition, a winner of Canada Grand Challenges Stars in Global Public Health, and 1st prize winner of the Reed Elsevier Environmental Challenge.
For the latest news, follow WaterSHED on Facebook and Twitter.
About WaterAid Cambodia
WaterAid is an international organisation whose mission is to transform the lives of the poorest and most marginalised people by improving access to safe water, sanitation and hygiene (WASH). WaterAid was born from the water industry in the United Kingdom (UK) and has been operating for over 35 years, now working in 36 countries globally.